The best vegan Oatmeal M&M Cookies are chewy with a little bit of crunch, lightly sweetened and so satisfying! Made with better-for-you ingredients so you can indulge without any guilt.
If you love cookies, but want a recipe you can feel good about, then this new oatmeal m&m cookies recipe is going to make you so happy! Made with simple vegan ingredients and packed with SunButter, chewy oats, and chocolate candies, these oatmeal cookies are a deliciously wholesome take on a childhood classic.
Why you'll love these vegan oatmeal m&m cookies
Easy 1 bowl recipe
Naturally vegan and gluten free (use certified GF oats & these vegan chocolate candies)
Allergy-friendly (It's hard to believe these cookies are dairy-free, egg-free, soy-free & nut-free!)
Hearty, wholesome, & satisfying
Contains plant-based protein by adding SunButter
Plenty of room for ingredient customization
Umm, these are delish!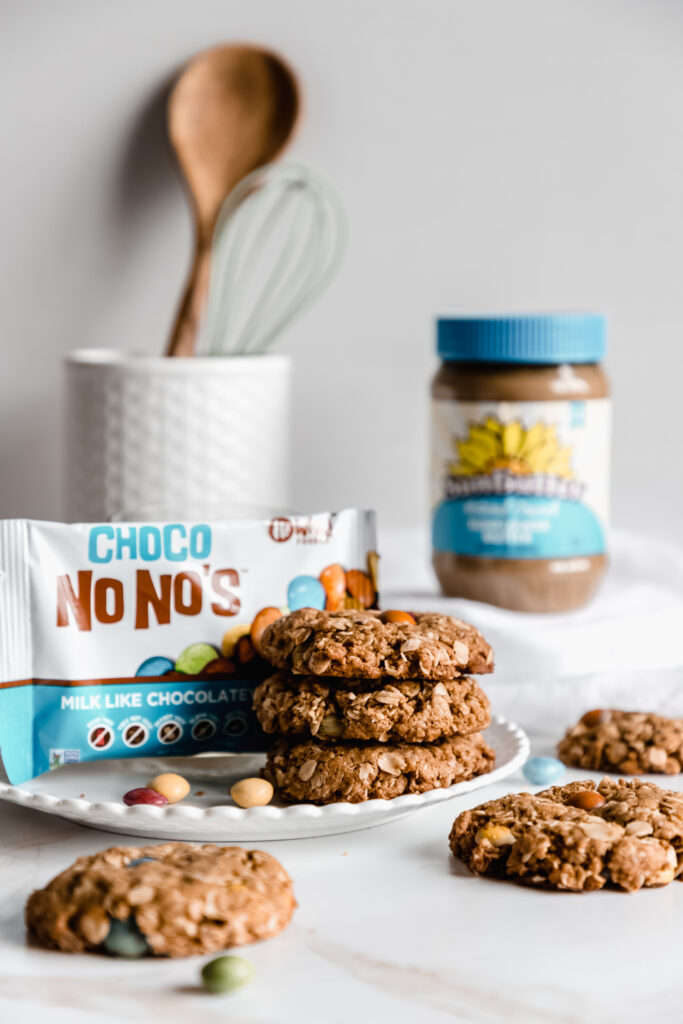 Ingredients to make SunButter oatmeal m&m cookies
These delicious, SunButter oatmeal m&m cookies use super simple ingredients that you probably have in your pantry. Feel free to get creative with this recipe and play with your favorite mix-ins.
Here's what you'll need: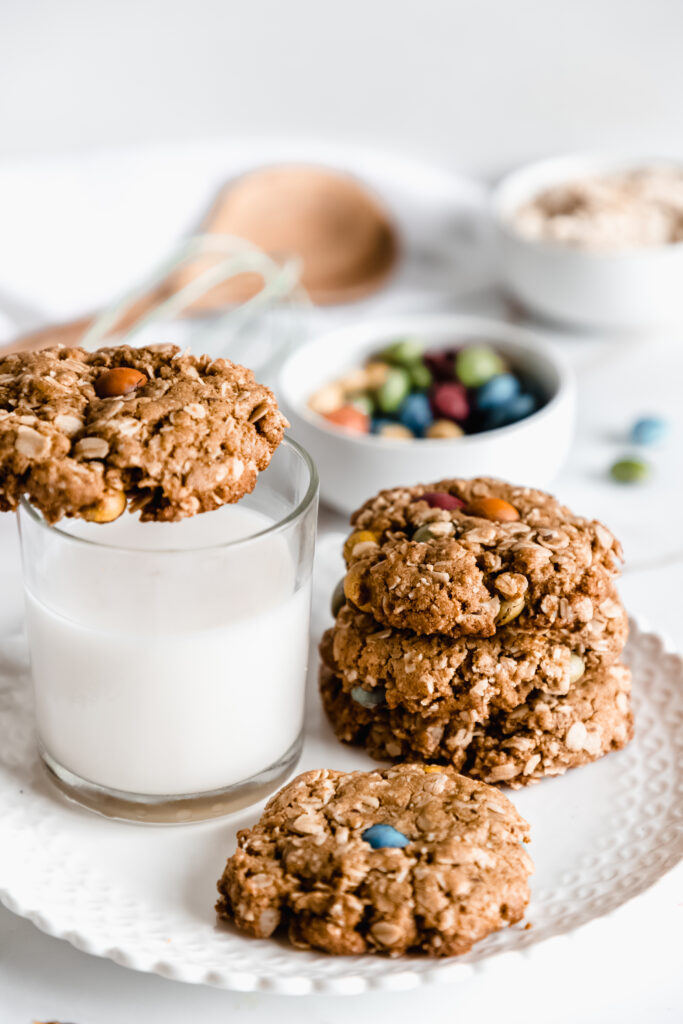 How to make vegan oatmeal cookies with m&m's
You are going to be shocked at just how easy this cookie recipe is to make. Simply place all ingredients in a bowl then mix, scoop and bake. Easy peasy right?
Keep in mind, there is an orderly fashion in which to add the ingredients, but it's not going to make or break this recipe if you accidentally switch it up.
Tips for making the best vegan oatmeal cookies with SunButter and chocolate candies
Use rolled oats. Rolled oats cook faster than steel-cut oats, absorb more liquid, and hold their shape well during baking. Steel cut are thicker and chewier whereas Quick oats will won't hold together as well, creating a mushier cookie. You can see all the differences here.
Make it nut-free. You honestly won't miss out by making these oatmeal cookies with SunButter. It provides taste, texture, stability, protein and just holds it all together. Choose from crunchy or smooth depending on preference.
Spoon and Level. Whether you use all-purpose flour or a 1:1 gluten free blend, DON'T scoop the flour directly from the container. This flour is often packed down, which will yield too much flour. Simply spoon flour into the cup, then level off the excess.
Press it down. These cookies won't spread on their own (due to lack of fats) so press lightly with the back of a spoon to flatten into shape (otherwise it'll stay a cookie ball).
Let it be. Use a little patience and let these cookies cool before removing from the pan. This allows them to set so you can enjoy them without falling apart.
How to customize oatmeal m&m cookies
Although this recipe uses vegan chocolate candies, you can really add any mix-in you'd like. Try using chocolate chips, chocolate chunks, shredded coconut, chopped chocolate cups, seeds, nuts (if not allergic) or go traditional style with raisins.
More vegan cookie recipes to try…
The Best Homemade Vegan Blueberry Lemon Cookies
Vegan Linzer Cookies | Easy, Delicious, Nut-Free
The Best Vegan Soft Batch Sugar Cookie
Easy Chewy Sunflower Butter Cookies |Vegan Gluten free, Nut free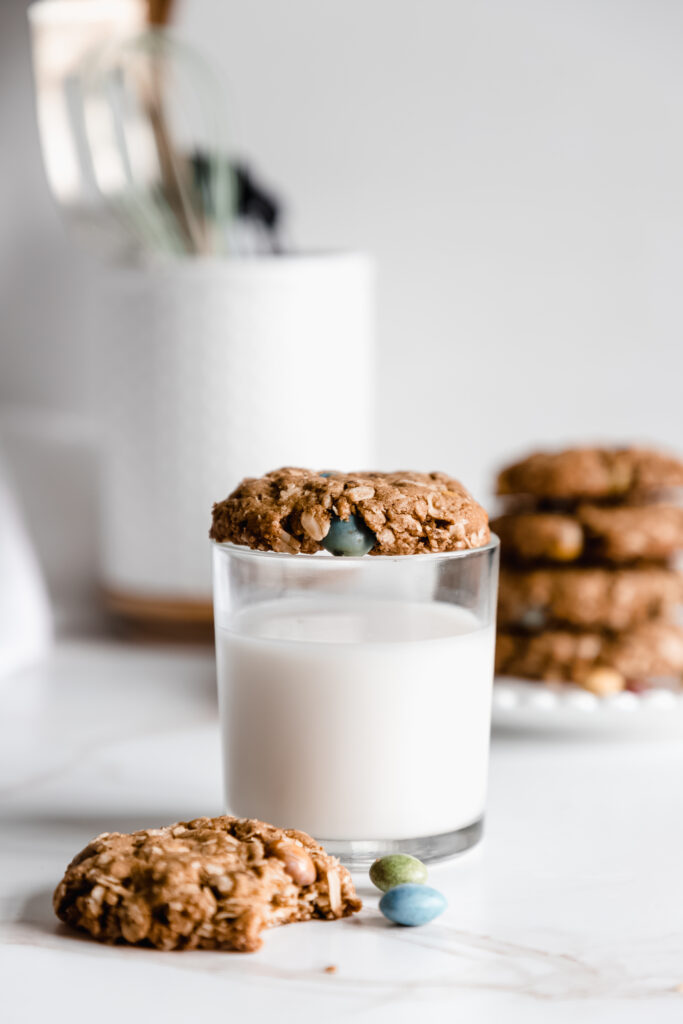 I can't wait for you to try these oatmeal m&m cookies! If you have any questions or comments, please be sure to leave those below & add your rating ⭐️⭐️⭐️⭐️⭐️ so others can find the recipe! Follow along with me on Instagram, Pinterest, Facebook, Youtube and Twitter and tag your photos #allergylicious @allergylicious!
Happy Baking!
Easy to Make, Vegan Oatmeal "M&M" Cookies with SunButter
Yield: 20
Prep Time: 5 minutes
Cook Time: 12 minutes
Additional Time: 15 minutes
Total Time: 32 minutes
The best vegan Oatmeal M&M Cookies are chewy with a little bit of crunch, lightly sweetened and so satisfying! Made with better-for-you ingredients so you can indulge without any guilt.
Ingredients
Flax egg (2 tablespoon flaxmeal + 1/3 cup water- let sit)
1 3/4 cups rolled oats
1 cup all purpose or 1:1 gluten free baking flour
1/2 cup cane sugar
1 teaspoon baking soda
1/2 teaspoon ground cinnamon
3/4 cup unsweetened applesauce (if it contains cinnamon, then omit cinnamon used above)
3/4 cup SunButter
1 teaspoon pure vanilla extract
1 cup vegan chocolate candies or chocolate chips 
Instructions
Preheat oven to 350° and line a baking sheet with parchment paper.
In a small bowl, make your flax egg then set aside to thicken.
In a large bowl, whisk together oats, flour, sugar, baking soda and cinnamon.
Add to the flour mixture your wet ingredients: flax egg, applesauce, SunButter and vanilla and mix until its a thick batter.
Fold in chocolate candies/chips.
Using a cookie scoop or spoon, scoop 1-2 tablespoons of dough onto parchment, leaving a little space in between each.
Lightly press down dough with the back of a spoon to flatten into a cookie shape.
Bake 10-12 minutes, or until edges are golden.
Remove from oven, let cool on pan and enjoy!
Recommended Products
As an Amazon Associate and member of other affiliate programs, I earn from qualifying purchases. Please see my FULL DISCLOSURE POLICY for more details.
Nutrition Information:
Yield: 22
Serving Size: 1
Amount Per Serving:
Calories: 177
Total Fat: 9g
Saturated Fat: 2g
Trans Fat: 0g
Unsaturated Fat: 6g
Cholesterol: 10mg
Sodium: 96mg
Carbohydrates: 22g
Fiber: 2g
Sugar: 11g
Protein: 4g
Nutritional information is only an estimate based off of using an online calculator. Numbers will change depending on brands used.