Easy to make, these oatmeal banana muffins are fluffy, moist, and taste amazing. These vegan muffins are the perfect recipe to turn ripe bananas into a delicious breakfast or snack.
I have the perfect muffin recipe for you right here. Packed with flavor and chocolate chips, this is one banana muffin that tastes like your favorite banana bread, but with the addition of chocolate ….. because chocolate chips make everything better.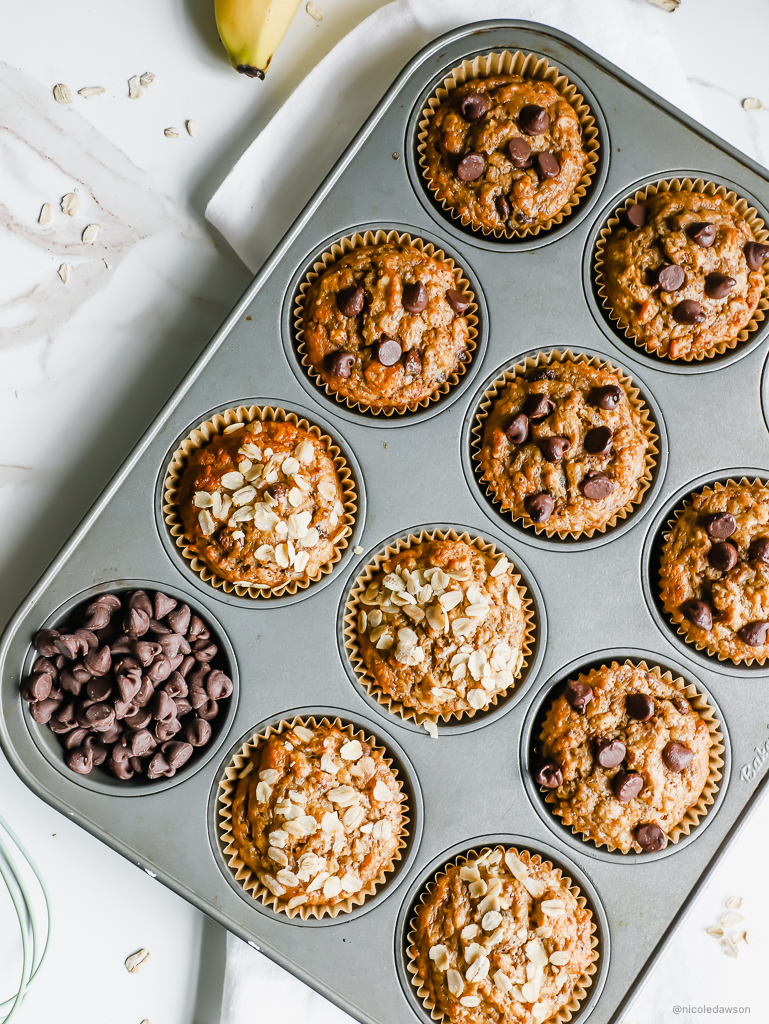 Why you'll love these oatmeal banana muffins with chocolate chips
so quick and easy to throw together
deliciously moist and fluffy
satisfying yet wholesome
Perfectly sweetened with coconut sugar
studded with melty chocolate chips
Vegan & easily gluten-free (just use 1:1 GF Flour Blend)
oozing with banana flavor!
And the best part of all? They're great for breakfast, snack, or dessert!
Ingredients you'll need
Here's a list of ingredients you'll need to make these muffins. You can find the complete list of ingredients on my recipe card at the bottom of this post.
Bananas: approximately 3 medium-sized, extra ripe bananas bring extra flavor to these vegan muffins.
Organic Brown sugar: we're sweetening these vegan banana muffins with light, organic brown sugar which is refined free but you can also swap with coconut sugar.
Flaxseed meal: using flaxseed meal + water, creates our vegan egg which binds our muffin together.
Vegan Milk: feel free to use any dairy free milk you'd like but make sure its room temperature.
Neutral oil: to add moisture, I used melted coconut oil but if you have a coconut allergy, vegetable oil or canola oil works perfectly too!
Flour: my go-to flour in this recipe is all purpose flour which keeps them light and airy. These muffins have also been tested with Bob's Red Mill 1 to 1 Gluten Free blend yielding similar results!
Oats: using rolled oats brings texture, chewiness and that extra yum factor.
Baking staples: you'll also need baking powder, baking soda, vanilla, nutmeg & salt.
Add-ins: enjoy the muffins without any extras or sprinkle in my fav → dairy-free chocolate chips.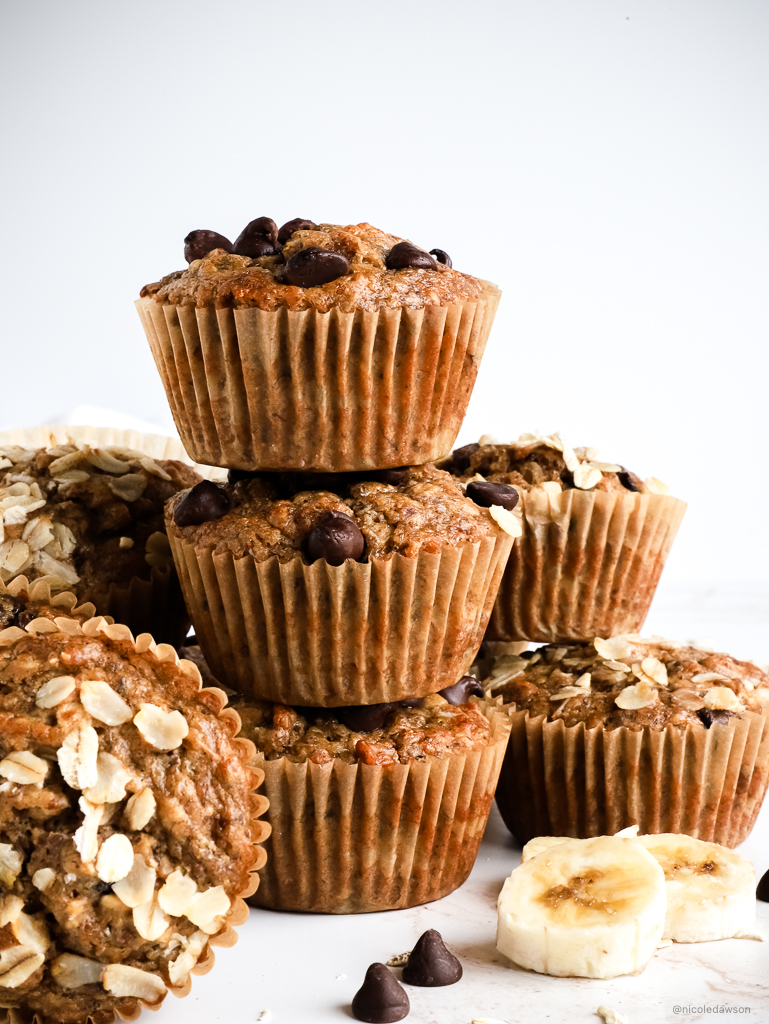 How to make oatmeal banana muffins
To make these vegan muffins, I like to start with a few of the wet ingredients first, making sure they are at room temperature before mixing.
If using coconut oil, heat it up to melt and then let it sit and bring to room temperature. While it is cooling off, mash those ripe bananas then add in oil, flax, brown sugar, vegan milk and cooled oil.
Next, whisk together the flour, oats, baking powder, baking soda, cinnamon and salt in a large bowl then add liquids to it, stirring with a wooden spoon until incorporated. Fold in mix-ins if desired.
Divide between 10 liners (yes…this only makes 10 full muffins) then sprinkle with extra chocolate chips or rolled oats. Bake, cool and enjoy!
Shop the recipe
Here are my recommended baking essentials used to make these muffins. As an Amazon Associate, I earn from qualifying purchases.
You can see all my favorite kitchen essentials on Shop My Blog.
Muffin making tips and tricks
Here are a few tips and tricks for making these oatmeal banana muffins.
You can make these muffins in a muffin pan with OR without liners. Just be sure to grease the pan well if not using – I recommend using a little spray even in the liners, to prevent sticking.
Make sure to measure your flour correctly. Using too much flour will result in dry muffins. I recommend using a kitchen scale or the scoop and level method for accuracy.
Use room temperature liquids. If you pour mix warm coconut oil into cold milk, you will get clumps.
Right before placing in the oven, sprinkle a few extra chocolate chips or oats on top of the muffin batter– it simply makes prettier muffins.
Try warming a muffin up in the microwave for a few seconds to get that melty chocolate chip feel and top with a dollop of vegan butter. Soooo good!
How long will these chocolate muffins last?
These muffins will stay fresh in an airtight container at room temperature for up to 5 days.
Can I freeze these muffins?
Yes, they also freeze well for up to 2 months. Simply wrap muffins individually in a freezer-safe bag. When the craving hits, reheat for 30-45 seconds in the microwave or thaw them at room temperature.
More vegan muffin recipes to try…
Vegan Blueberry Yogurt Muffins
The Best Vegan Blueberry Muffins (gluten free, nut free
Chocolate Banana Split Muffins from Eat Dairy Free
Whip up a batch today and enjoy fresh baked, warm oatmeal banana chocolate chip muffins with a nice glass of dairy-free milk or coffee.
Oatmeal Banana Muffins with Chocolate Chips
Prep Time: 15 minutes
Cook Time: 18 minutes
Additional Time: 10 minutes
Total Time: 43 minutes
Easy to make, these Oatmeal Banana Chip muffins are fluffy, moist, and tastes like your favorite banana bread but with chocolate chips.  A delicious way to turn ripe bananas into a delicious breakfast or snack.
Ingredients
1 1/3 cup mashed banana (approx 3 ripe bananas)
1/3 cup organic brown sugar
2 tablespoon flax meal
1/2 cup dairy-free milk 
1/3 cup vegetable oil (or melted, cooled coconut oil)
1 cup flour
3/4 cup rolled oats
1 teaspoon baking powder
1/2 teaspoon baking soda
1 teaspoon nutmeg or cinnamon
1/2 teaspoon salt
1/2 cup vegan chocolate chips (optional) 
Instructions
Preheat oven to 375° and line muffin tin with liners (10 total). Lightly spray with non-stick spray.
Using room temperature liquids, mix together mashed bananas, brown sugar, flax meal, vegan milk and oil.
In a large bowl, whisk together flour, oats, baking powder, baking soda, spices and salt. Add liquids to the dry ingredients and stir just until incorporated using a wooden spoon. Fold in mix-ins if desired.
Divide between liners and sprinkle extra oats or chocolate chips on top.
Bake 18-25 minutes then let cool in pan 5-10 minutes. Remove to rack and let finish cooling.
Notes
To make gluten-free, simply replace all purpose flour with Bob's 1:1 gluten free blend.
Recommended Products
As an Amazon Associate and member of other affiliate programs, I earn from qualifying purchases. Please see my FULL DISCLOSURE POLICY for more details.
Nutrition Information:
Yield: 10
Serving Size: 1
Amount Per Serving:
Calories: 239
Total Fat: 11g
Saturated Fat: 2g
Trans Fat: 0g
Unsaturated Fat: 8g
Cholesterol: 1mg
Sodium: 228mg
Carbohydrates: 33g
Fiber: 3g
Sugar: 14g
Protein: 3g
Nutritional information is only an estimate based off of using an online calculator. Numbers will change depending on brands used.