Vegan SunButter Buckeyes. This snack is high in protein and made with SunButter, protein powder, a touch of maple syrup and dipped in vegan chocolate!
Some of the most popular recipes on Allergylicious involve the combination of SunButter and Chocolate: Chocolate SunButter Bars , SunButter Protein Cups, Easy Vegan Gluten-free Brownies (+ video) , Chocolate Sunbutter Surprise Cupcakes and now these SunButter Buckeyes.
What is a Buckeye?
Did you know that Buckeyes are the unofficial dessert of Ohio…named after the nut from a buckeye tree? Buckeyes (the dessert) are traditionally made from a peanut butter confection, partially dipped in chocolate while leaving a circle of peanut butter visible to so that it resembles the actual nut itself.
But did you see the "red flag there? It's made from PB and having a son with a peanut & tree nut allergy means we would have to either avoid this dessert or re-create it. I choose to re-create it.
Thankfully, there are safer options for nut butters – not only for lunch time sandwiches, but for cooking and baking, too. Our favorite choice has always been SunButter®

Why SunButter
In addition to it's delightful taste, SunButter® is a both a healthy and allergy-friendly choice. It's natural and delicious sunflower butter made from roasted US grown sunflower seeds and has 7g of protein per serving with less saturated fat than other nut butters. SunButter® also is loaded with vitamins and minerals such as magnesium, Vitamin E, zinc and iron, making it just as nutritious at is it delicious. Plus, it's vegan, gluten-free and free from the top 8 allergens. I'd say this is a WIN WIN!
Healthy Dessert
Yes, I'm calling this a healthy dessert! These SunButter buckeyes require NO processed sugar (take that powdered sugar) & I added protein powder which makes these little bites a perfect afternoon snack. It also makes me feel less guilty for eating a little chocolate.
Say hello to the short list of ingredients:

Making SunButter Buckeyes
You'll be surprised at how easy it is to make SunButter buckeyes. The center is made by simply mixing together SunButter, vanilla, protein and maple syrup until smooth. Then roll into 1″ balls, and press a toothpick into the top of each ball (to be used later as the handle for dipping) and chill in freezer until firm.
Now comes the best part….adding the chocolate. Hold onto the toothpick and dip frozen balls in melted chocolate. Be sure to leave a small portion of SunButter showing at the top to make them look like Buckeyes. Put back on the cookie sheet and refrigerate or freeze until serving.
The results are incredible and these SunButter buckeyes will be a staple in your home for years!
Protein packed, gluten free, allergy-friendly and vegan SunButter Buckeyes.

SunButter Buckeyes
Yield: 12-14 bites
Prep Time: 5 minutes
Cook Time: 5 minutes
Total Time: 10 minutes
Vegan SunButter Buckeyes. This snack is high in protein and made with SunButter, protein powder, a touch of maple syrup and dipped in vegan chocolate!
Ingredients
1 cup SunButter (Creamy or Natural)
1 teaspoon vanilla extract
2 scoops vanilla protein powder (I used OWYN)
2 tablespoons liquid sweetener (maple syrup, agave or brown rice syrup)
1 cup dairy-free chocolate chips (like Enjoy Life Foods)
1 tablespoon coconut oil (you can also use your favorite shortening of choice)
Instructions
Add SunButter, vanilla extract, protein powder, and maple syrup, to a big speed blender. Puree until all ingredients are combined into a thick "dough". Roll the dough into 1'' balls and place on a parchment lined baking sheet. Freeze until solid (30 minutes).
While balls are freezing, melt chocolate and coconut oil using a double boiler or in the microwave. Just watch it closely to make sure it doesn't burn! Once the balls are frozen, use a toothpick to dip each ball halfway into the melted chocolate, then place back on the parchment lined baking sheet. Freeze for another 10-15 minutes, or until chocolate has hardened. Eat immediately or keep refrigerated until ready to serve!
Nutrition Information:
Serving Size: 1 bites
Amount Per Serving:
Calories: 110
Total Fat: 4g
Carbohydrates: 12g
Protein: 9.2g
A HUGE thanks to SunButter® for partnering with me to share this recipe as continue to celebrate Allergy Awareness Month. My family & I just LOVE this company and their commitment to providing safe foods for those with food allergies or restrictions. All of their products are certified Top 8 Free and available online at www.sunbutter.com or Amazon as well as most local grocery stores.
More Recipes with SunButter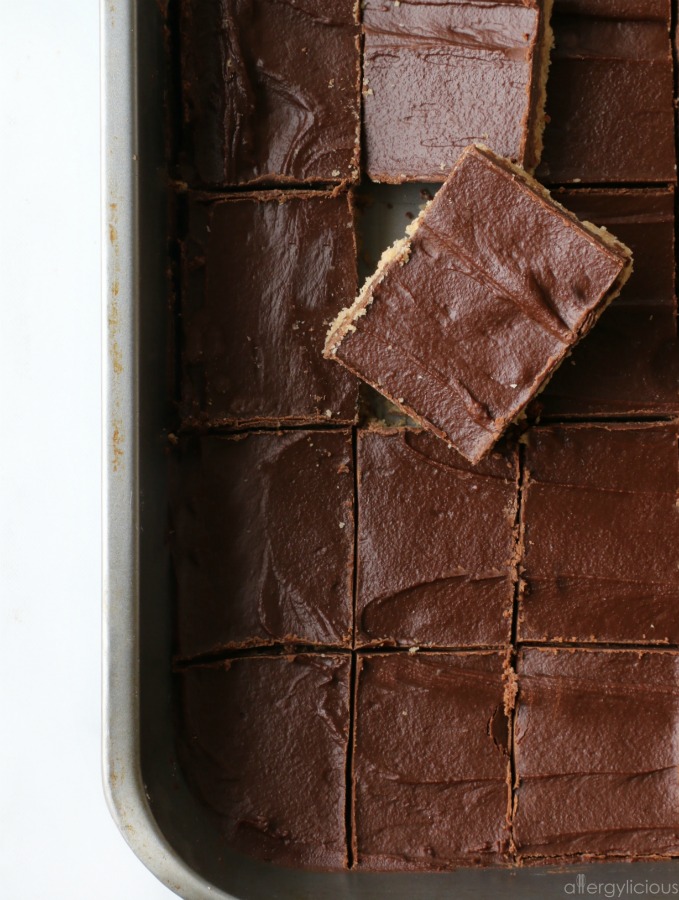 If you give any of these recipes a try, let me know by leaving a comment and rating the recipe! It's super helpful for us. And while you're at it, take a picture and tag it #allergylicious on Instagram so we can see! We love seeing what you come up with.