6 Ingredient SunButter Blondies are soft and chewy and loaded with plenty of chocolate chips. They're also vegan with an easy gluten-free option!
Friends, we have another scrumptious blondie recipe for you, this time it's SunButter-inspired!
Made with just 6 simple ingredients, these vegan blondie bars are hands down one of the best dessert recipes you can bake. Ready in approximately 30 minutes, they're not only delicious but also a cinch to make using only one-bowl. Talk about a good idea!
Craving all things SunButter? Be sure to check out Nut-Free "Peanut Butter" Cookies with SunButter , Easy SunButter Swirl Vegan Brownies and The Best Chocolate Cupcakes with SunButter Buttercream Frosting.
What is the Difference between Blondies and Brownies?
Blondies are the sister to brownies and are often referred to as "blonde brownies". Both bars are rich in flavor, dense and chewy, but what makes them different is that brownies have that fudgy-ness thanks to the addition of cocoa. Instead of an intense chocolatey flavor, blondies have notes of caramel and butterscotch from using brown sugar instead of granulated sugar and more closely resemble cookie bars.
Ingredients for Soft Blondies
You'll only need 6 ingredients that you probably already have in your pantry and fridge to make these tasty SunButter blondies! I used vegan chocolate chips, but you can use whatever you have on hand like white chocolate, chocolate chunks, chopped Sun Cups, candies.… But to make the recipe in the photos, you'll need:
How to make Vegan SunButter Blondies:
6 ingredients, 5 steps….it couldn't be easier.
Preheat oven to 350 degrees (F). Line a 8×8-inch baking pan with parchment paper.
Add the flour and mix until combined. Pour in a little milk and stir smooth.
Finally, fold in the chocolate chips. Scrape the batter into the prepared pan.
Bake for 24 to 25 minutes, or until the edges are firm and golden and the center is just slightly wobbly.
That's it!
Tips for the best Soft Chewy Blondies
This dessert bar recipe is one of the most effortless recipes you'll make, but to ensure a nice, soft crumb you'll want to remember these 2 tips:
Do not overmix the batter: This SunButter blondie recipe has is simplicity at its finest, so only mix until the batter is just mixed.
Under bake the bars: Bake just until the edges are a light golden color and the middle is still a little tiny bit gooey. The bars will continue to cook as they cool in the pan so if you leave them in the oven for too long, they will be too hard and dry. Remember, these are vegan (aka eggless) so if its a little underdone no one will care.
Blondie Baking Questions
Are blondies supposed to be gooey?
I like mine gooey, soft and chewy. If they turned out cakey or dry then they were overbaked! (See tip above).
Can I use gluten free flour?
Of course! However, I can only recommend a 1:1 gluten free flour for an easy swap with similar results.
Do blondies need to be refrigerated?
Nope, room temperature is best as long as you seal them in an airtight container.
How long will they last?
If stored properly, these SunButter blondies will last for 5-6 days. That is, if you can restrain from eating them all on Day 1.
What type of SunButter should I use?
For these I used the No Sugar Added (orange jar), but Creamy (red jar) or Natural (yellow jar) all are great choices. If using the natural variety, you may have to mix it up before measuring if the oil has floated to the top of the jar.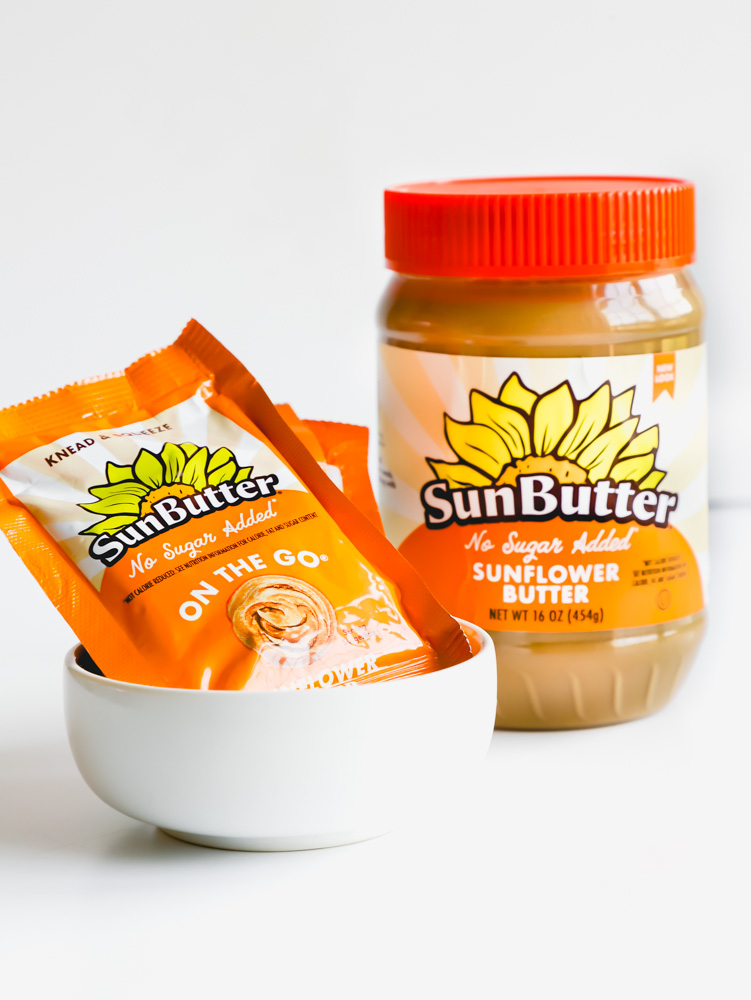 Will by blondies turn green?
My bars didn't show signs of turning green which is common for other recipes using SunButter. It's a natural chemical reaction when the chlorophyll in sunflower seeds reacts with baking soda/powder (which we didn't add to this recipe).
Can you freeze them?
Yes. Just store the blondies in a single layer in a freezer safe container, or stack with sheets of parchment between. They should last for up to 3 months. Let them defrost at room temperature before enjoying.
Fresh from the oven, these thick & chewy SunButter blondies literally melt in your mouth. I can't wait for you to try them! I hope you absolutely love these soft and chewy vegan blondies as much as I do. They're seriously soooo good!
If you liked this recipe or have any questions, be sure to leave a comment down below as well as giving the recipe a rating ⭐️⭐️⭐️⭐️⭐️ so that others may find this recipe!
6 Ingredient Vegan SunButter Blondies
Yield: 16
Prep Time: 10 minutes
Cook Time: 25 minutes
Total Time: 35 minutes
6 Ingredient Vegan Blondies are soft and chewy and loaded with plenty of chocolate. They're also vegan with an easy gluten-free option!
Ingredients
1 cup light brown sugar, packed
3/4 cup creamy, SunButter
1/4 cup coconut or canola oil (if using coconut oil, melt then let cool slightly)
1 cup all purpose flour (make gluten free by using 1:1 gluten free blend)
1/4 cup vegan milk 
1/2 cup vegan chocolate chips
Instructions
Preheat oven to 350 degrees (F). Line an 8x8 inch baking pan with parchment paper allowing two of the sides to overlap; set aside.

In a large bowl whisk together brown sugar, oil. and peanut butter; beat smooth.

Add the flour and mix until combined. Pour in almond milk and stir smooth. Fold in chocolate chips or peanut butter cups, if using.

Pour batter into prepared pan and place in the oven to bake for 25-27 minutes, or until center is *just set. Don't worry if they don't look done. They will firm up while they cool.

Cool blondies in pan completely before cutting into small squares.
Recommended Products
As an Amazon Associate and member of other affiliate programs, I earn from qualifying purchases. Please see my FULL DISCLOSURE POLICY for more details.
Nutrition Information:
Yield: 16
Serving Size: 1
Amount Per Serving:
Calories: 188
Total Fat: 10g
Saturated Fat: 2g
Trans Fat: 0g
Unsaturated Fat: 7g
Cholesterol: 0mg
Sodium: 49mg
Carbohydrates: 24g
Fiber: 1g
Sugar: 16g
Protein: 3g
Nutritional information is only an estimate based off of using an online calculator. Numbers will change depending on brands used.