This Hobo Dinner Foil Pack is easy & delicious, loaded with potatoes and veggies, seasoned with Frontier herbs & spices than grilled to perfection. This is one amazing meal that you don't want to miss out on.
Content on this Foil Pack Dinner post was created for the Summer Grilling campaign and Sponsored by Frontier Co-op.
I absolutely HATE camping! In fact, my entire family hates camping unless it's at K-Kaui Family Camp (where we have a room with beds, bathroom, a mini fridge and they cook for us 3x a day….oh, and they have a coffee shop too). Ya, that's the kind of campers we are and I'm perfectly ok with that. And the closest to cooking on a campfire, is making s'mores in our outside fireplace or grilling out in the backyard. I know, I'm pretty rugged, aren't I? 😉
Although I don't do campfire dinners, I do love creating simple, wholesome Summer meals that can be prepared ahead of time, cooked on the grill (or a campfire if you are more adventurous than I), delicious and easy to clean up! Anyone else with me on this one? If so, then you've gotta try this Foil Pack Dinner.
Frontier Co-op:
My husband would tell you that I am a grocery snob, and although I wouldn't use that term, per say, I do agree with wanting the best when it comes to food. I choose organic when possible, I like knowing where my food comes from & I also like buying from companies that I give back. All this in addition to buying foods that are allergy-safe (which isn't a snob issue but a trust issue).
Frontier is a company I already buy for the reasons above, which is why I happily agreed to create this recipe for them. They are committed "to providing pure seasonings that taste great and promote healthy communities, as well as a healthy planet. They source their spices from growers committed to quality, sustainability and ethical trade".
Featured spices used in our Foil Pack Dinner
The essentials:
Although the spices are key for added flavor, you must have a few other essential components when making your Foil Pack Dinner.
Step 1: Find Your Fat
You don't want your b-b-q masterpiece sticking to the foil so you must be sure to include some type of fat. Olive oil is a great way to add a healthier oil, but you can also use coconut oil or a dairy-free butter.
Step 2: Pick Your Protein
Although you get protein from the veggies you pick, you can up the amount of protein by choosing an additional source. In our Hobo Foil Pack Dinner, I chose to use a veggie kielbasa, but you could also use tofu, tempeh, beans, or even vegan breakfast sausage.
Step 3: Add a ton of veggies
Bring on the veggies…just about any veggie will do but consider it's cooking time. You want firmer veggies like potatoes cut into smaller pieces or thinly sliced like I did, so they cook at the same rate as mushrooms, peppers and onions.
Step 4: spice it up
We already talked a little about the spices I used, but with a veggie base, you MUST add salt and pepper. Adding the rosemary really added another layer of flavor but if you don't like rosemary or are afraid to spread your wings a little, then there are plenty more to pick from. Let your imagination run wild!
Step 5: Fold & grill
Tear off 12-14 inch pieces of foil. You'll want a little extra room to pile in your veggies and still have room in the pouch so heat will circulate inside like a mini oven.
Place the food in the center of the foil, drizzle with oil then layer your chosen ingredients such as potatoes, onions, garlic, peppers, jalapeño, mushrooms and kielbasa. Fold the two long edges toward one another and fold over once or twice & crimp for a sealed edge. Fold and crimp each short end of the foil toward the middle so that the edges are all tightly sealed and the juices don't flow out.
Alternative Cooking Options:
Grilling is my favorite cooking method for Foil Pack Dinners but IF you don't have a grill, IF it's too cold outside or IF you don't want to grill, here are a few other cooking options.
Top it Off:
Sauce it up & top it off, with some of our favorites!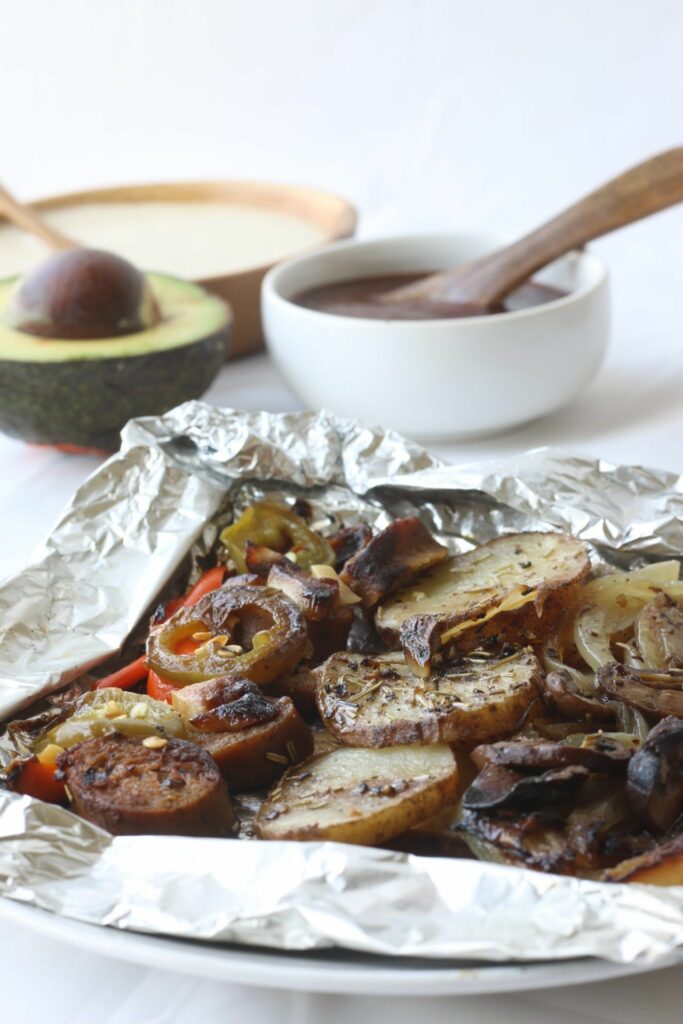 We absolutely loved these (Hobo) Foil Dinner Packets! I love how the grill gives the slightly charred edges and how full of amazing flavor these were with the combination of the herbs and seasonings.
You guys have to grill these this summer. They are fantastic and will become a new favorite at your house as well!
If you like potatoes, you may also like:
Let's get grilling: the recipe
Hobo Dinner Foil Packets
Yield: 4-5
Prep Time: 15 minutes
Cook Time: 30 minutes
Total Time: 45 minutes
Potato & Veggie Foil Packets are easy & delicious, Summer meal, seasoned with herbs and grilled to perfection. This is one amazing dinner that you don't want to miss out on.
Ingredients
3-4 medium baking potatoes, thinly sliced or quartered (I left skin on)
2-3 vegan sausage links, patties or kielbasa
1  onion, sliced or chopped
1 red bell pepper, seeded and chopped
1 cup sliced mushrooms
2 -4 cloves garlic, minced
4 tablespoons olive oil
Pink Himalayan sea salt and freshly ground black pepper
Dried rosemary (or other spice of your choice)
Instructions
Divide the ingredients among the four pieces of foil, placing in the center of each foil, then drizzling with olive oil. Fold the two long edges toward one another and fold over once or twice & crimp. Fold each short end of foil toward the middle and crimp so the edges are tightly sealed.
Preheat grill then cook on medium high for about 10-15 minutes each side, turning occasionally.
Cooking time will vary if you loaded your veggies.
Let the packets cool slightly before serving. Carefully open the packets and serve with toppings of choice.
Nutrition Information:
Yield: 4
Serving Size: 1
Amount Per Serving:
Calories: 687
Total Fat: 46g
Saturated Fat: 13g
Trans Fat: 0g
Unsaturated Fat: 31g
Cholesterol: 82mg
Sodium: 1216mg
Carbohydrates: 50g
Fiber: 6g
Sugar: 8g
Protein: 21g
Nutritional information is only an estimate based off of using an online calculator. Numbers will change depending on brands used.
Thanks to Frontier co-op for partnering with me to create this Foil Pack Dinner recipe to encourage, healthy Summer Grilling. As always, the recipe and opinions are my own. Collaborating with brands I love allows me to keep bringing you new and varied recipes! Thanks for your support!
For more information or to purchase, check out: Frontier Allergen Information , Frontier Co-op website , or Amazon. Most local grocery stores also carry Frontier Co-op brand.