Salt and vinegar dress up these smashed sweet potato bites for a mouth watering, tangy & delicious take on a classic potato chip.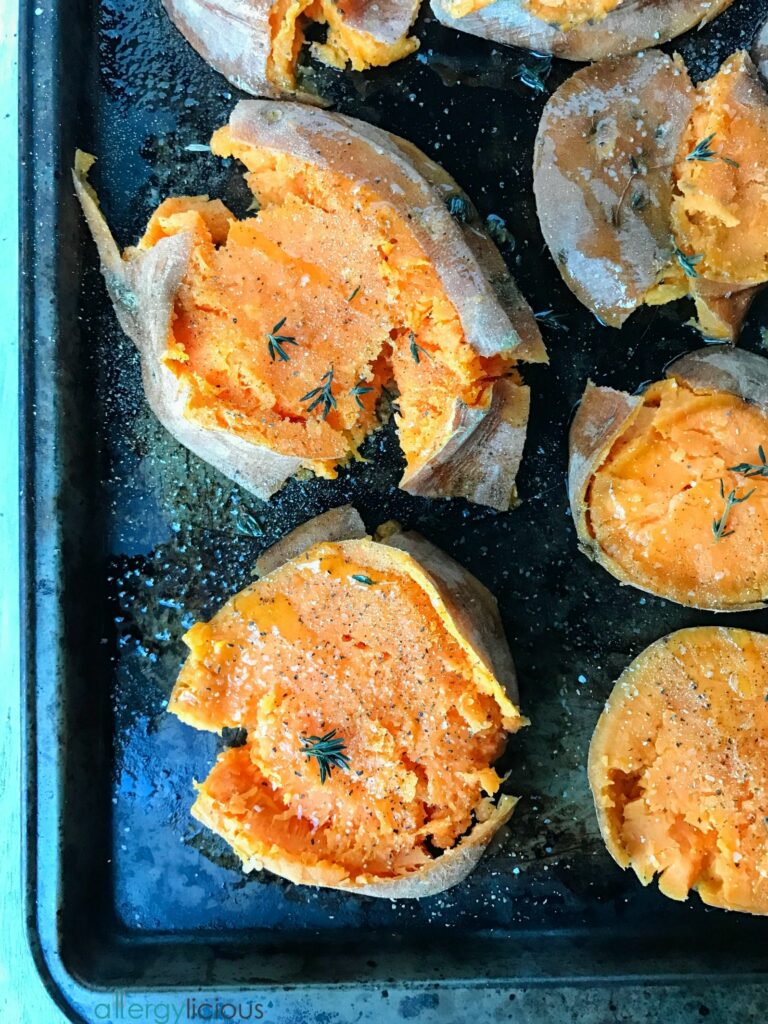 My salt & vinegar love affair started back when I was a child in Canada. I used to love the Hostess brand with little devils on the front of the bag. Those seemed to pack the most punch and made my mouth pucker more than any other. I'm pretty sure there was a time or two that I ate so many chips that I could no longer feel my tongue! Despite both the pain and delight I put my mouth through, my love affair continued.
Eventually, I graduated from chips and moved on to french fries but the combination of salty and tangy were still my favorite. Crispy fries, salted with a heavy hand then drizzled with malt vinegar was the way to eat them. Ketchup need not be applied.
Today, I still crave the combination of salt and vinegar! But this time, I've created my own, healthier version of a childhood favorite using sweet potatoes, sea salt and malt vinegar (keep reading for GF version). Smashed Sweet Potatoes are just as delicious, but without the guilt.
How to Make Smashed Potatoes
Simply slice your sweet potatoes into 1″ rounds, steam in a steamer basket until fork tender, then "SMASH"! (I just love saying that!)  Drizzle with a little olive oil, sprinkle with salt, pepper & fresh thyme then bake in a hot oven.
Once the edges are nice & crispy, remove from oven, salt 'em up and drizzle with as much malt vinegar as you can handle. If you have a gluten allergy, be sure to use another type of vinegar. Apple cider vinegar works great or use your standard white vinegar.
These smashed sweet potatoes are totally addicting, just like those chips were, years ago.
Can't get enough of sweet potatoes?
Then be sure to check out this collection of Healthy Sweet Potatoes from A Mindfull Mom. And in case you are all out of sweet potatoes and in the mood for something spicy, be sure to check out these Spicy Potato Wedges from Texanerin Baking or Chia Roasted Butternut Squash from Perry's Plate. These are also allergy-friendly & naturally vegan.
Print your Salt & Vinegar Smashed Sweet Potatoes Recipe here:
Salt & Vinegar Smashed Sweet Potatoes
Yield: 4-6 people
Prep Time: 20 minutes
Cook Time: 20 minutes
Total Time: 40 minutes
Twice baked, sweet potato smash with a tangy kick of sea salt & vinegar.  
Ingredients
3 sweet potatoes, scrubbed
1/4 cup extra virgin olive oil or melted coconut oil
Sea salt & pepper
Fresh thyme leaves
Malt vinegar
Instructions
Fill a large pot with steamer basket and fill with enough water, to come just below the base of the basket. Bring to a boil.
Cut sweet potatoes into 1" rounds. Layer in steamer basket and reduce to a simmer. Cover and let steam until fork tender (20-25 minutes).
Preheat oven to 425°. Lightly drizzle rimmed baking sheet with oil then place softened sweet potatoes on top, leaving room between them. Gently smash using a metal spatula or measuring cup. Drizzle tops with oil then sprinkle with sea salt, pepper & fresh thyme.
Roast until skins are golden and crispy (25-30 min) then transfer to serving dish. Drizzle with vinegar then sprinkle a little extra sea salt to desired taste.
Serve warm.
Notes
Be sure to use the appropriate vinegar if following a GF diet such as Apple Cider Vinegar, White Vinegar or a fancy Artisan Vinegar. 
Recommended Products
As an Amazon Associate and member of other affiliate programs, I earn from qualifying purchases. Please see my FULL DISCLOSURE POLICY for more details.
Nutrition Information:
Yield: 6
Serving Size: 1
Amount Per Serving:
Calories: 163
Total Fat: 11g
Saturated Fat: 3g
Trans Fat: 0g
Unsaturated Fat: 8g
Cholesterol: 0mg
Sodium: 71mg
Carbohydrates: 14g
Fiber: 2g
Sugar: 6g
Protein: 1g
Nutritional information is only an estimate based off of using an online calculator. Numbers will change depending on brands used.
Craving more? Follow Allergylicious on Facebook and invite your friends! Find me on Instagram and Tag #allergylicious with your awesome remakes! You can also find me on Pinterest sharing the newest, delicious, allergy-friendly foods. So many wonderful ways to share with others and build a community of support.