These Vegan & Gluten-free Blondies are the real deal and made in less than 30 minutes. Soft & chewy, oozing with chocolate chips, you just may win the hearts of brownie lovers too.
These chocolate chip filled blondies are everything a dessert bar should be. Crispy on the edges, deliciously thick & chewy in the center and OH SO satisfying. If it's vegan and includes chocolate, then I'll be indulging a little. How about you?
This blondie recipe has been made over and over again, until perfected. I just couldn't share it until I was completely happy with the results and ya'll….the wait it over! Take 1 bite of these brown sugar blondies and it'll taste like you are eating layers of warm cookie dough stuffed with chocolate!
It's an incredibly easy recipe made with simple allergy-friendly ingredients that you can adjust to fit your restrictions. You can't really mess it up and the great part is, because it's vegan, it doesn't contain eggs! So grab your spoon and dig right in, because it's 100% approved for raw cookie dough eating.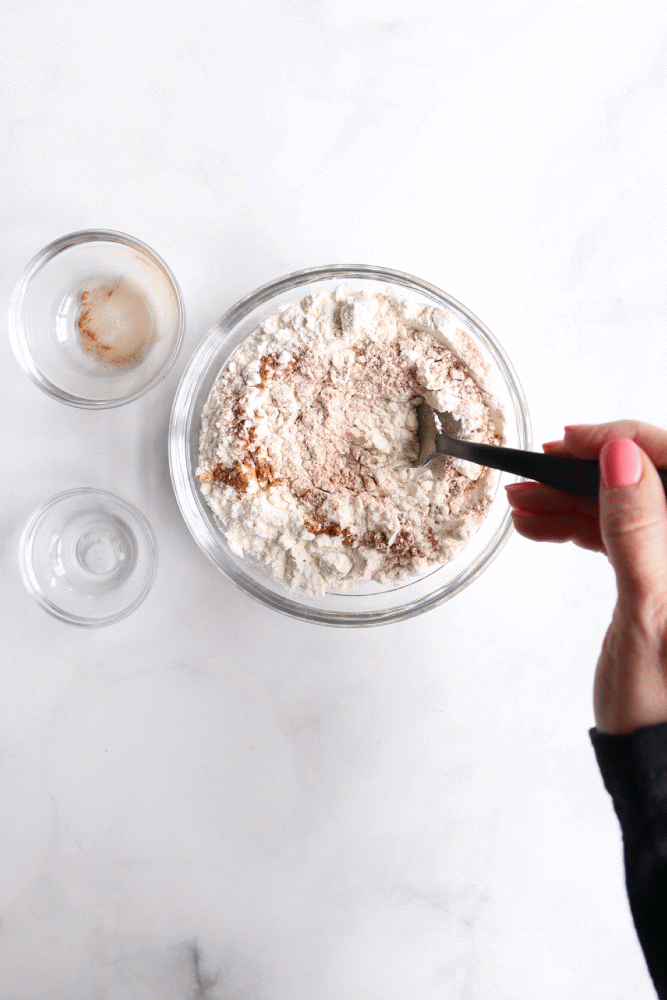 Vegan & Gluten-Free Blondie Substitutions:
Kween Granola Butter. I was introduced to Kween on Instagram and just loved the flavor and texture. It basically tastes like spreadable granola with hints of cinnamon. I love having options and sharing them with you all. But, if you do not have Kween's Granola Butter on hand, you can absolutely use your favorite nut-free spread like SunButter. And if you don't have a nut allergy, then use what you love.
Gluten-free Flour. I really love using this blend when creating baked goods that are also GF because you can easily swap it out with the same amount of All-Purpose Flour. If you use another GF flour, just make sure to see if Xanthan Gum needs to be added.
Dairy-free Milk. Honestly, I tested this recipe with a few vegan milks and my favorite have been Good Karma Flax Milk or Oatly's Oat Milk. Both are rich and creamy but subtle in flavor. If you prefer Coconut Milk (NOT from a can), Soy or Almond, those would work as well.
Vegan Blondies in less than 30 minutes
Optional Blondie Mix-ins
Although I'm all about the chocolate chips, here's a few other ideas you may want to try.
Vegan Marshmallows
Candied Sprinkles
Dried Cranberries (a.k.a Craisins) & white chocolate chips
Caramel candies or chopped up candy pieces
Gluten-free Pretzels
Or throw it all in there and have a Blonde Party!
They do says Blonde's have more fun.
These Vegan & Gluten-free Blondies are the real deal. Gluten-free, vegan, nut-free AND ready in less than 30 minutes. I am so in love with this dessert and I know it'll quickly become a favorite of yours too! I mean…look at that chocolatey center!
Brown Sugar Blondies (Vegan + Gluten-free)
Yield: 12-16
Prep Time: 5 minutes
Cook Time: 25 minutes
Total Time: 30 minutes
These Vegan & Gluten-free Blondies are the real deal and made in less than 30 minutes. Soft & chewy, oozing with chocolate chips, you just may win the hearts of brownie lovers too. 
Ingredients
1 cup flour (Bob's 1-1 Gluten-free or All Purpose Flour)
3/4 teaspoon baking powder
1/2 teaspoon cinnamon
1/4 teaspoon salt
1/4 teaspoon baking soda
6 tablespoon vegan butter
3/4 cup light brown sugar (or coconut sugar)
3 tablespoons dairy-free milk 
2 tablespoons nut-free spread (like Kween Granola or SunButter)
1 tablespoon pure vanilla extract
1 tablespoon run extract or coffee extract (optional)
1/3 cup semi-sweet chocolate chips (dairy-free)  
Instructions
Preheat oven to 350°. Line an 8-inch pan with parchment paper, long enough so edges overhang.
In a medium bowl, whisk together flour, baking powder, cinnamon, salt and baking soda until combined.
Using a stand mixer (or hand-held), beat the butter, brown sugar, milk, nut-free spread, and extracts until combined. Slowly beat in the flour mixture.
Once the flour is incorporated, stir in chocolate chips. Batter will be thick.
Even pat the batter into the prepared pan. Bake 25 minutes or until edges are lightly browned. Once cooled, lift parchment handles to remove blondies from pan. Cut into squares and serve.
Notes
Using the ingredients listed, this recipe is Top 8 Free & Gluten-free.  See post for substitutions.