Chocolate Molten Lava Cake is a chocolate lover's dream come true. The warm, gooey, fudgy chocolate center is heavenly!
THIS POST IS SPONSORED BY ENJOY LIFE FOODS®
Do you want know the easiest way to show someone you love them??? Make them this warm, chocolate lava cake and their heart will skip a beat. Whether it's a Valentine's Day celebration, or a cozy night in, this recipe is guaranteed to make someone feel loved.
At first glance, this cake might seem difficult, but I promise you it's one of the easiest desserts you'll ever bake.
It's also a little deceiving because it looks like a cute little chocolate cake and then "WHAM" one bite into that fudgy, melty chocolate center and you've not only surprised them, but also won their hearts.
Steps to Make Molten Lava Cake
So how exactly does one make a molten lava cake…that's vegan and gluten-free? Let me show you!
This recipe can be made using a simple ingredients you probably already have in your kitchen. Dairy-free milk, oil, cocoa, chocolate chips….and a few other baking essentials. The best part? These delightful treats come together in about 25 minutes and require one bowl!
The most important part of this recipe is the addition of Enjoy Life Foods chocolate chips, placed into the center of each ramekin/tin.
When you watch the video below, you'll see I used Enjoy Life Foods Chocolate Chunks and pressed it into the batter. Although this made for an amazing chocolate cake, it didn't quite "ooze" out like I had hoped. So I tried again, using their mini chocolate chips, and those yielded the best lava-like results. Therefore, mini chips it is!
Important Lava Cake Tips
You can make these cakes right away, or you can prep & refrigerate the day before then bake when you need them. The key is to serve them hot and super melty. YUM!
But be sure to watch the timer and do not walk away or get distracted because every extra minute will change the texture of your cake. Each oven is different, which means that this may bake perfectly in 10 minutes in my oven but 15-20 minutes in yours. So my suggestion is to start with 10 minutes and check on on it. If the edges are puffy and the center is unset….you should be good to go.
Berry Coulis
To say that I absolutely love this berry coulis (aka – berry sauce) is an understatement. It is so darn yummy. In fact, I actually doubled the batch and so I could drizzle it on my Double Chocolate Waffles too.
Don't skip this step….you won't regret it. Remember…you're making this for someone special (even if that's yourself) and they/you are worth it!
Molten Lava Cake Video
Enjoy Life Chocolate
If you've never used Enjoy Life Chocolate before, then you are in for a treat. It's our favorite dairy-free baking chocolate…but we're not alone since it's also American's #1 allergy-friendly chocolate. Their chips contain only 3 ingredients but are so rich & smooth tasting. And the fact that they are "free from" over 12 allergens, means everyone can indulge in this dessert!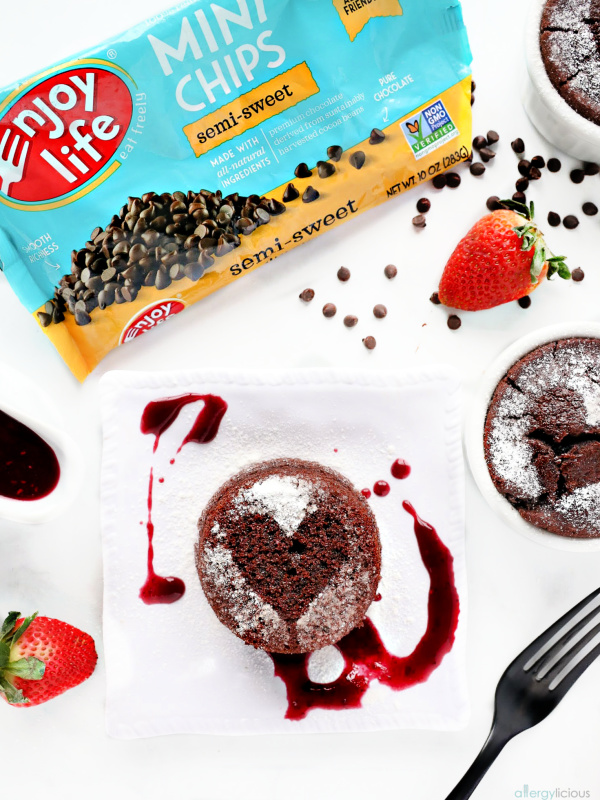 So call your special someone – your spouse, your bestie, your crush, your kiddos, whoever you love – and tell them you made something special just for them. Delicious Chocolate Lava Cakes.
Lava Cake with Berry Coulis Recipe
Wanna know how to make this Molten Lava Cake even more spectacular? A dusting of powdered sugar in the shape of heart will do the trick! That, with your homemade berry coulis and some dairy-free whip or "nice" cream will be everything you need to "wow" your loved ones!
Chocolate Molten Lava Cake
Chocolate Lava Cake is a chocolate lover's dream come true. The warm, gooey, fudgy chocolate center is heavenly and the beautiful berry coulis makes it even more special!  As always, it is Vegan, Gluten-free & Nut-free
Ingredients
2/3 cup plain dairy-free milk, unsweetened
1/2 cup neutral oil (vegetable, safflower)
1/4 cup maple syrup
2 tablespoons sugar
1/4 teaspoon apple cider vinegar
1/2 cup 1-1 Gluten-free flour blend or AP Flour
1/4 cup cocoa powder
1 1/2 teaspoons baking powder
1/4 teaspoon baking soda
pinch of salt
3/4 cup Enjoy Life Foods mini chocolate chips
Berry Coulis
1 1/2 cup berries (if frozen, then defrost)
1/2 cup sugar
1 cup water
Instructions
Chocolate Lava Cake
Preheat oven to 350° and oil 6 muffin tins.
In a large mixing bowl, beat on medium milk, oil, syrup, sugar and vinegar until combined.
Add flour and cocoa and beat 3-5 minutes.
Add baking powder, baking soda and salt then beat until incorporated and smooth.
Divide between oiled tins, filling 1/4 full. Add 2 tablespoons of mini chocolate chips to the center of batter then top off with more cake batter, until 3/4 full.
Bake 10-15 minutes (or until batter is puffy on the edges but center is not yet set).
Make Berry Coulis (see below)
Flip pan upside down onto board than transfer each cake to a dessert plate. Dust with confectioners sugar and drizzle with raspberry coulis.
Serve Warm.
Berry Coulis
Place berries, sugar and water in a small saucepan on the stove. Simmer on medium heat about 15-20 minutes. Let cool then blend until smooth in your blender.
Notes
Keeps 1 week if refrigerated and covered.  Reheat in microwave 30-45 seconds then serve with berry drizzle and whip cream of choice if desired.
Share something delicious