Chocolate Chip Zucchini Bread – it's the recipe you've been waiting for! This bread is vegan, gluten-free & nut-free PLUS down right deliciously addicting!
The other day I purchased a couple really nice looking zucchini squash with the intention of turning them into pasta with my spiral maker. As you can probably guess from the photo above, I opted for using them to make bread instead. Sure the pasta would have been a whole lot healthier, but it wouldn't satisfy our sweet tooth nearly as well.
I've actually been making this recipe for years, but it's been revised a few times to fit our changing food restrictions. It went from dairy, egg & nut-free, to vegan and over the last few years, I started making it gluten-free too. Although Xander's allergies do not require the removal of gluten, my daughter's belly benefits from being gluten-free. And since this is one of our favorite recipes, I HAD to share it with you all!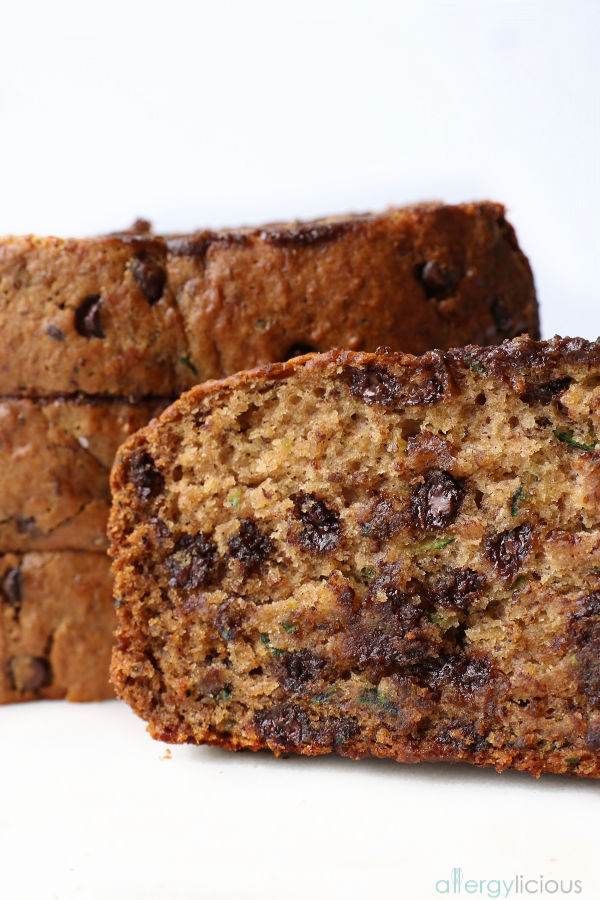 I'm actually eating some right now with my coffee while I'm writing this!
Doesn't it look yummy?
Watch how easy this zucchini bread is to make.
If you give these a try, let me know by leaving a comment and rating the recipe! It's super helpful to know what you think. And while you're at it, take a picture and tag it #allergylicious on Instagram so I can see! I love seeing your creations.
Your Recipe Below:
Zucchini Bread worth Making
You can't go wrong with Zucchini Bread, especially when its allergy-friendly and Vegan. No dairy, eggs or nuts, just AMAZING
Ingredients
6 TB. Ground Flax Meal whisked into 1/2 C. +1 TB. warm water (set aside)
1/2 C. Coconut Oil, melted (or vegetable oil)
1/2 C. Natural Applesauce
2 C. Light Brown Sugar 
1 tsp. Vanilla Extract
2 1/2 C. Grated Zucchini (approx 3 medium)
3 C. Gluten Free Flour (1-to-1 mix)
1 tsp. Salt
2 tsp. Baking Soda
2 tsp. Baking Powder
1 TB. Cinnamon
2 tsp. Nutmeg
1 C. Dairy Free Chocolate Chips (optional but recommended)
Instructions
Preheat oven to 350.
Grease and lightly flour 2, 8x4" loaf pans.
Wash & Grate zucchini. Set in a colander over bowl and lightly press to remove some of its water. Set aside.
With a paddle attachment, blend together flax mix, oil, applesauce, sugar and vanilla. Add in zucchini until well combined.
In a separate bowl, sift together flour, salt, baking soda and powder, cinnamon and nutmeg. Add into wet mixture and blend until evenly combined.
If using chocolate chips, fold in at this time.
Divide batter, evenly between pans.
Bake for approximately 45 minutes until center comes out clean.
Cool on rack in pan before slicing.
Notes
*If using All-Purpose Gluten-free Flour be sure to add 1 teaspoon Xanthum Gum. 
**Can use regular All-purpose Flour in place of GF flour.  DO NOT include Xanthum Gum.
Craving More?
Sign up for the Allergylicious newsletter for a fresh serving of content delivered every week to your inbox! Grab a copy of my eBook and stay in touch on Instagram, Facebook, Twitter and Pinterest for all of the latest updates.