Dinner doesn't have to be difficult, sometimes the best ones are simplest, like Veggie Fried Rice.
Several nights ago, I went all out with this elaborate dinner. It was this lentil & butternut squash dal with homemade chia seed (gluten-free, flour free) bread. It may not sound crazy fancy, but it was time consuming, used a ton of ingredients & made a complete mess in the kitchen. Needless to say, NO ONE liked it! In fact, my husband, called my oldest son at work and asked him to pick up tacos on the way home. I opted to eat pity instead of tacos.
That next night, I didn't make the same mistake, instead, I opted for making something I knew would win them over, something that wouldn't disappoint their taste buds. Veggie fried rice.
I started with a big pot of rice, grabbed the extra-firm tofu from the fridge and pulled out the bag of frozen veggies. 3 main ingredients and some seasoning is all you need for a delicious dinner that won't send your family running for tacos.
Here's the quick Step-by-step.
1. Rinse your rice real well until the water runs clear. Whether you are cooking your rice via rice cooker, stove top or in the oven, it cooks best and tastes best when you wash away all the starch. Also, make sure to give yourself enough time if you are cooking with brown rice. I usually just start a pot in the morning (it can take twice as long to cook as white rice) using the rice cooker, so it's ready no matter what I end up making that night. Save the extra rice for this Vegan Butternut Squash Rice Bowl by A Mindfull Mom.
2. Drain your tofu, turn out on to a board, wrap in a light towel or paper towels then press down, releasing any additional water it has absorbed in packaging. This won't get rid of all of it, but you want the tofu to be able to hold some of the flavoring, and this trick will help. Then cut into cubes, add to a hot wok (or non-stick skillet) and cook until light and crispy on the outside. I don't add my liquid seasonings until I'm ready to start moving the tofu around the pan and some more moisture has been released.
Another option is simply let your tofu marinate for 15-30 minutes then using a slotted spoon, transfer tofu to a baking sheet and bake for 20 minutes at 350° (or until edges are crispy).
3. Tofu is cooked and can be removed from pan and set aside.
4. Add your veggies to the skillet and saute in a little bit of sesame oil or butter (like 1 tablespoon). Here, you can add in diced onions, peppers and fresh garlic if your heart desires. OR, just use the frozen veggies if pressed for time.
5. Now add cooked rice to pan, top with the remaining marinade/sauce, mix well into the vegetables and "fry". You want to give it that nice browning, 3-5 minutes is all you'll need. Take a quick taste and season with salt & pepper or extra soy sauce if desired.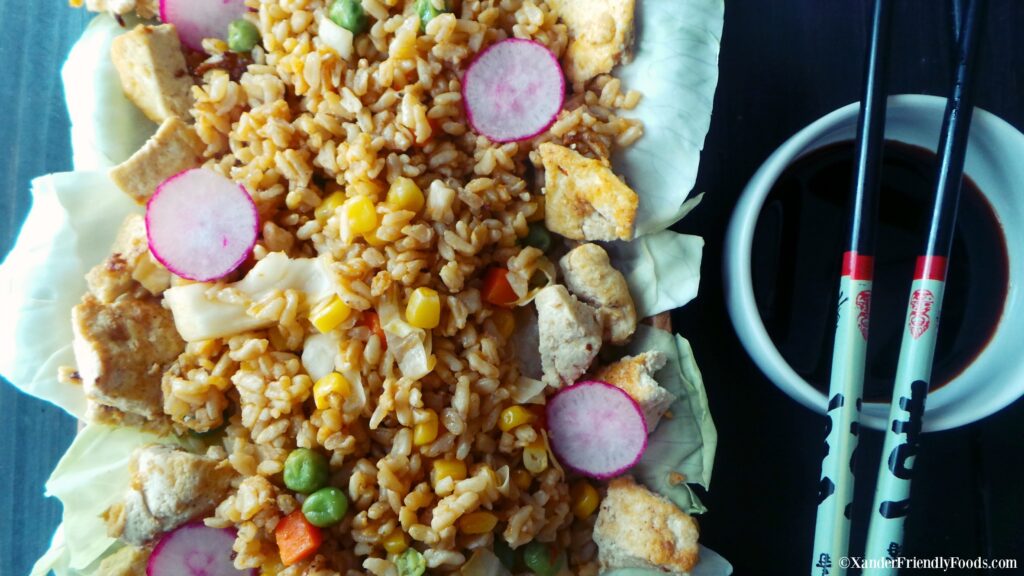 6. At the end, you may choose to add the tofu back to the pan for a quick reheat. If you used the oven method and timed it right, this step isn't necessary. I actually like to keep my tofu separate so I can use it as a topping and make sure everyone gets some.
For an extra kick, be sure to put a bottle of Sriracha (hot chili sauce) on the table so everyone can spice it up until their heart's content.
This dish pairs nicely with my Dirt Soup, so if you have any extra 5 minutes, get this started while the rice if cooking.
Quick note in regards to Food Allergies and this dish:
I use Gluten Free soy sauce (Tamari) or Liquid Coconut Aminos when making this dish. Make sure to read your labels to stay GF.
If you have a Soy allergy, completely omit or add in a different protein. We do not eat meat, but chicken or eggs could be an option.
Sesame oil is used in the marinade. This is not a Top 8 allergen but I recognize many do have this as a food allergy. If this is you, try using Sunflower oil or even Safflower oil.
Veggie Fried Rice
Yield: 5
Prep Time: 5 minutes
Cook Time: 30 minutes
Total Time: 35 minutes
Let your family think you spent the whole day in the kitchen preparing this dish. Easy to make, 1 skillet, "fried" rice with veggies & seared tofu.
Ingredients
5 C. cooked rice (brown or white)
1 lb. organic, non-GMO Extra firm tofu. Drained, pressed and cut into cubes.
1 16oz bag of frozen, organic mixed vegetables
-----------------
MARINADE:
3-4 TB. Gluten free soy sauce (tamari or coconut aminos)
1-2 TB. sesame oil
1/2 TB. rice vinegar (optional)
1/2 tsp. ground garlic seasoning
1 tsp. ground ginger seasoning
Instructions
If your rice is not already cooked, rinse well and cook according to package instructions.
In a small bowl, whisk together soy sauce, sesame oil, garlic & ginger. Set aside.
Remove tofu from packaging, drain, wrap with paper towels (or light towel) and press liquid out. Be careful not to "mush" tofu. Cut into cubes.
Heat skillet (or wok) to medium high and add tofu. Allow some of the natural liquids to be released, THEN add half of the liquid marinade. Flip cubes and cook until outside is crisp. Remove tofu from pan and place in a bowl then set aside. (Alternative: season tofu in advance with marinade, then bake 15-20 minutes @ 350•, or until crisp)
Add frozen vegetables and a drizzle of oil to the pan. If using fresh diced veggies, cook until they start to soften. Add cooked rice then pour in remaining marinade. Stir to incorporate the sauce into the rice and veggies then keep on stove until everything is nice and warm.
Add extra soy sauce or tamari if desired.
Plate up and serve, topping with crisp tofu.
Notes
Feel free to add veggies to your mix. I like to throw in shredded cabbage at the end for some added crisp & freshness. Sliced mushrooms, green onions and radishes also make a great addition.