Have you ever had a truffle? Bite-size, chocolate confectioners candy, covered in an assorted choice of toppings, YUM!
Velvety, Vegan chocolate ganache truffles, rolled and coated in coconut, cacao, sugar and crushed pretzels for an easy to make, confectioners delight. GF
Typically, some fancy restaurant or candy shop will give you access to such a treat, but not anymore! You can now make your own truffles, allergy-friendly ones, in just a simple Two-Steps.
Crazy, right?
(This post has been revised with new images)
Easy to make
These truffles were made for a Christmas party but really the toppings are up to you. But before I jump ahead of myself, let me tell you how to make Vegan Two-Step Truffles.
Melt the chocolate, coconut oil, water. Stir until smooth then remove from heat and stir in vanilla and salt. Move to the refrigerator and allow to sit no more than 2 hours.
Remove from fridge, scoop 1″ size balls (using a melon baller or min-ice cream scoop) then roll into topping of choice.
Refrigerate these after so they don't get too soft, but take them out at least 20 minutes before serving so they get back to room temperature. Otherwise, they'll still taste delicious, but more like a solid chocolate ball then a velvety smooth truffle.
Pick your Toppings
You don't have to use my toppings if you prefer to venture out on your own, although the crushed pretzel topping is one of my favorites (salty & sweet, yes PLEEZ!). Think about what flavor combination you would enjoy or even what event you are creating these for and let that guide you. Maybe you'd like to add a sprinkle of cayenne pepper for a Mexican inspired truffle, or roll it in sanding sugar and sprinkles for Birthday Party truffles. Your options are only as limited as your imagination so have fun with it.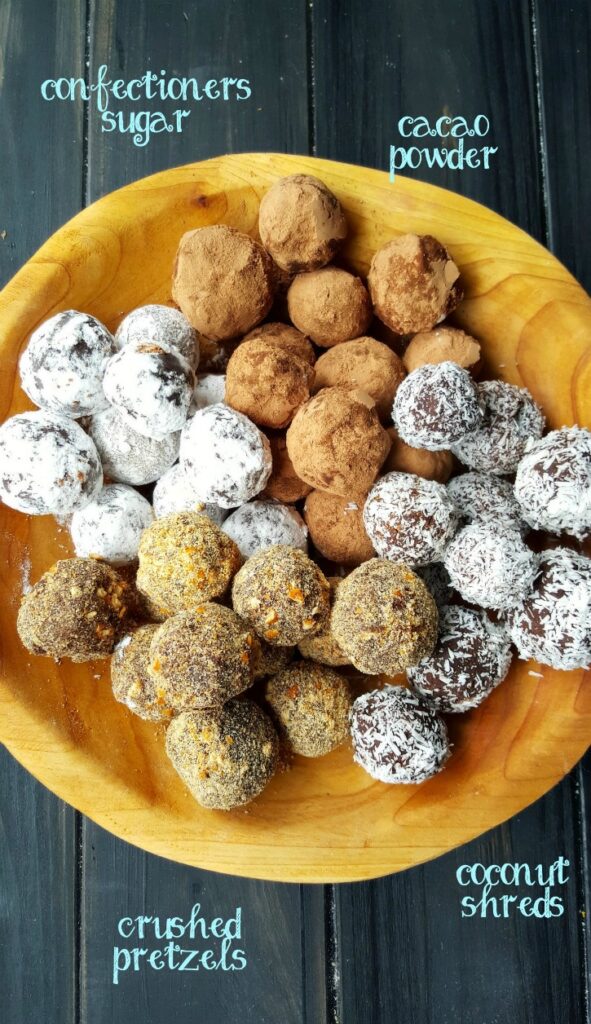 Here's a little trick for you….coat your hand in either confectioners sugar or cacao powder before you roll. This will keep your body heat from melting the chocolate. Just don't forget to use powdered sugar on your hands when rolling in a white topping (coconut shreds, confectioners sugar or sanding sugar) and cacao power when rolling in a darker topping (cacao, crushed chocolate cookies, dark sprinkles or even nuts). And if you forget and end up with a blend of cacao & powdered sugar, it's perfectly acceptable to dispose of that one….by eating it of course.
OH!!! Make sure you stash a few away for yourself in the fridge somewhere since you probably won't have any left over.
Vegan Truffle Recipe
Two-Step Truffles
Yield: 28
Prep Time: 5 minutes
Cook Time: 2 hours
Total Time: 2 hours 5 minutes
Velvety, chocolate ganache truffles, rolled and coated in coconut, cacao, confectioners sugar and crushed pretzels for a simple to make, confectioners delight.
Ingredients
1 bag chocolate chips (Enjoy Life for Allergy-free)
1/4 C. coconut oil
2 TB. water
1 tsp. pure vanilla extract
1/2 tsp. sea salt
---------------------------------
For Toppings:
1/4 C. cacao powder
1/4 C. shredded coconut (unsweetened)
1/4 C. confectioner sugar
1/4 C. crushed pretzels (Glutino brand is my favorite)
Instructions
Heat chocolate, coconut oil and water in a saucepan on medium, stirring just until melted.
Remove from heat and add in vanilla extract and sea salt.
Place saucepan in refrigerator (use a trivet underneath to protect shelving) and let mixture set for no more than 2 hours.
Using a small ice cream scoop, scoop chocolate and quickly roll into a ball. Place in bowl with topping of choice and roll again to coat.
Refrigerate until ready to serve.
Recommended Products
As an Amazon Associate and member of other affiliate programs, I earn from qualifying purchases. Please see my FULL DISCLOSURE POLICY for more details.
Nutrition Information:
Yield: 24
Serving Size: 1
Amount Per Serving:
Calories: 45
Total Fat: 3g
Saturated Fat: 2g
Trans Fat: 0g
Unsaturated Fat: 0g
Cholesterol: 0mg
Sodium: 58mg
Carbohydrates: 4g
Fiber: 0g
Sugar: 3g
Protein: 0g
Nutritional information is only an estimate based off of using an online calculator. Numbers will change depending on brands used.
Craving more? Sign up for the Allergylicious newsletter for a fresh serving of content delivered every week to your inbox! Grab a copy of my eBook and stay in touch on Facebook, Twitter and Pinterest for all of the latest updates.