How do you make an adult snow-cone? With coffee of course!
Coffee,,, it's a pretty wonderful drink. I can drink it hot or cold, but never lukewarm! Morning or late night or even somewhere in between. It's by far my drink of choice.
When I'm not drinking a cup of it,  I'm using it in my recipes! Have you tried that before? Instead of using the liquid listed, substitute all or half of it with coffee or espresso. It turns a morning smoothie into a protein packed perk-me-up! Or a delicious cake into something spectacular. It turns sweet icing into something decadent. Basically, it turns great in to amazing!
Do you know what else it makes extra special? ICE! That's right, ice.
Think of it as an adult snow-cone, and I don't mean the liquored up kind of sno-cone. I mean the caffeine infused kind! A Coffee Granita.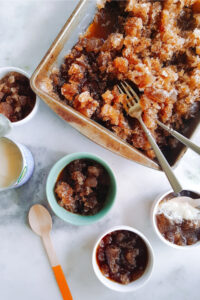 If you've never had a granita before, you are in for a treat. They remind me of a snow-cone but granitas are actually related to sorbet and Italian ice. Its texture is what really sets it apart. Semi-frozen with a coarse, crystallized ice, that's how it's done. It's not really a fancy treat, but it's nonetheless delightful! Especially when you top it with Sweetened Condensed Coconut Milk, adding a dollop of sweetness and creamy texture to the icy flakes.
I can tell you're getting excited!
And guess what….this is so simple to make! No need for fancy ice cream makers, popsicle molds or anything like it. You just need a 9×13 pan and a few ingredients.
Fresh brewed coffee (or espresso)
Vanilla Infused Sugar
Sweetened Condensed Coconut Milk (or a rich, dairy-free creamer)
See, even COFFEE is cheering you on! Are you ready to try it?
Recipe Time
Coffee Granita
Yield: 8-10 people
Prep Time: 5 minutes
Cook Time: 5 minutes
Total Time: 10 minutes
This dessert is an answer to coffee lover's prayers. A simple and sophisticated treat made with lightly-sweetened coffee, frozen and shaved then topped with a splash of sweetened condensed coconut cream.
Ingredients
5 Cups Fresh ground coffee (The bolder, the better)
1/2 Cup Fine cane sugar
1 Tsp vanilla extract (Or vanilla bean, scraped)
1/2 Cup Evaporate coconut milk (Or dairy-free creamer)
Instructions
Brew a pot of strong coffee.
Place sugar in a heat proof bowl and pour coffee on top. Stir to dissolve and add in vanilla. Let stand to cool to room temperature, then refrigerate 30 minutes.
Transfer to a 9x15" metal pan. Freeze until mixture is slushy, approximately 1 hour.
Using a fork, scrape the ice crystals into flakes. Freeze again another 1-2 hours but continue to break up crystals every 30 minutes so it does not solidify.
To serve, remove from freezer and let stand 10 minutes if needed. Scrape granita into serving bowls. Top with 1 tablespoon of evaporated coconut milk.
Notes
If you happen to forget about the freezing granita, don't worry. Simply remove it from the freezer, let sit out to thaw 15 minutes then start to break up and scraping away to make icy flakes.
For my granita, I used a speciality, vanilla bean cane sugar and didn't use any extra vanilla.  If you use plain sugar, add vanilla or extract of choice.
Recommended Products
As an Amazon Associate and member of other affiliate programs, I earn from qualifying purchases. Please see my FULL DISCLOSURE POLICY for more details.
Nutrition Information:
Yield: 10
Serving Size: 1
Amount Per Serving:
Calories: 63
Total Fat: 2g
Saturated Fat: 2g
Trans Fat: 0g
Unsaturated Fat: 0g
Cholesterol: 0mg
Sodium: 4mg
Carbohydrates: 10g
Fiber: 0g
Sugar: 10g
Protein: 0g
Nutritional information is only an estimate based off of using an online calculator. Numbers will change depending on brands used.
Still want more Coffee?
In case you're looking for some other coffee inspired recipes, look no further (don't worry, these recipes are from yours truely,,,,,just under my old blog name).
Here's something healthy: 
And a little less healthy, but worth it!
What's your favorite type of speciality coffee? If you're not a coffee drinker, what other flavor of granita would you like to try, or have tried? 
If you had to pick 1, would it be snow-cone, granita, Italian ice or sorbet? 
Don't forget to share your answers below,,, It's much more fun when everyone participates 🙂