These cookies are like taking everyone's add-ins and packing them in a simple, compact, magical treat. Completely vegan & gluten-free
Compost cookies, monster cookies, garbage cookies…we may not agree on its name, but you all will agree that these cookies are AMAZING! Sweet + salty + oaty + minty + nutty + gooey = OMG!
Have you seen the Cornflake-Chocolate Chip-Marshmallow cookies created by Chrisina Tosi, chef/owner of Milk Bar. I first drooled over saw them on the Food Network and then was tempted once again when she made them on Martha Stewart. All I knew was that I needed this cookie but had to recreate them, making a cookie that was allergy-friendly too.
Allergy-friendly Ingredients
Our compost cookies are a hodgepodge of several ingredients that come together so deliciously that you'll wonder why you never ate all of them together before. These treats are loaded with: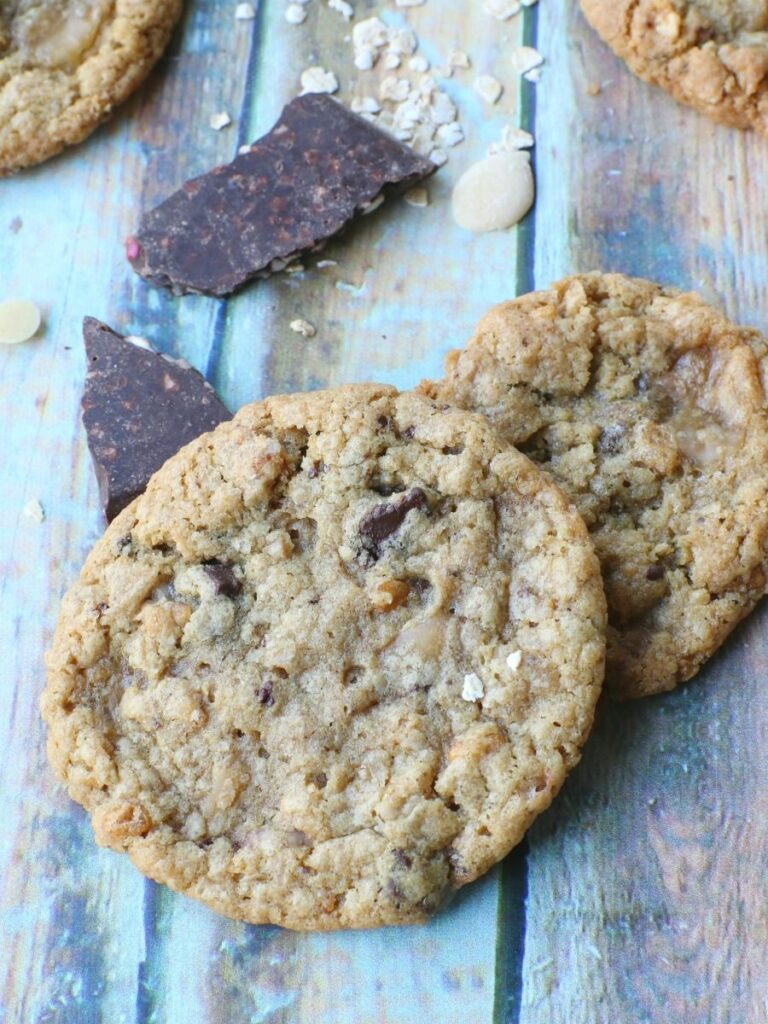 Compost Cookies using Free2B
Aren't sure about all these ingredients? That's ok. Leave some out, replace with others, load it up with all your favorites. Since I was making these for the holidays, I used Free2B's Snack Breaks in their Dark Chocolate Peppermint flavor. They also have Blueberry Crunch & Cranberry Pumpkin Seed which would a fun way to change things up, depending on the time of year you'll be making these. OR….stick with chocolate chips, because you can't go wrong with a classic.
Chill Baby, Chill
The great thing about this recipe is it is super easy. There is a bit of chilling time, but totally worth it & necessary if you don't want it all to melt together. Just make sure to roll the dough into balls and then chill them. I tried it the other way around, but quickly found out that rolling dough balls before they are chilled, is SO much easier.
Then bake and get ready for the "oohs and awe's". Making a batch of vegan compost cookies are the perfect way to bring this year to a close and ring in the New Year. It's like a gathering of all your favorite cookies, all rolled into one! Time to get the party started.
Get the Recipe Here
Allergy-friendly Compost Cookies
These cookies are like taking everyone's favorite snacks and packaging them in a simple, compact, magical treat. Chocolate Peppermint treats, white chocolate chips, SunButter, oats and marshmallows. Completely vegan & gluten-free
Ingredients
2 cups Gluten-free Flour (Bob's 1-to-1 GF Flour)
1 teaspoon baking soda
1/2 teaspoon baking powder
pinch of salt
2 sticks vegan butter, room temperature
1 cup light brown sugar
1/2 cup granulated cane sugar
1/4 cup SunButter (or nut butter of choice)
2 egg replacers (we used Neat Egg)
2 teaspoon vanilla extract
1 cup GF oats
1 cup Free2B Peppermint Snack Break   (chopped)
1 cup vegan white chocolate chips 
1 cup vegan marshmallows
1/2 cup brown rice krispie cereal
Instructions
Preheat oven to 350°. Line baking sheet with parchment.
Combine butter and sugars in bowl with stand mixer. Using the paddle attachment, cream on medium high for a minute then add in egg replacer and vanilla. Add in SunButter then beat 7 minutes (YES, 7 MINUTES)
Meanwhile, Combine flour, baking soda, & baking powder in a medium bowl.
Slowly add in flour mixture while on low speed JUST until combined. Scrape down sides if needed.
Stir in the oats, chocolate peppermint pieces, white chocolate chips & rice krispie cereal. If using marshmallows, add these last and try to keep these on the top of the cookie dough ball, so they don't melt into the cookie. Refrigerate 1 hour or more.
Drop 1/4 cup sized dough onto prepared baking sheets, 3 inches apart. Bake in batches 10-15 minutes. Cookies should be browned on the edges and golden in the middle.
Cool on sheet pan before transferring to a plate to serve.
Pin Deliciousness for Later
Craving more? Sign up for the Allergylicious newsletter for a fresh serving of content delivered every week to your inbox! Grab a copy of my eBook and stay in touch on Instagram, Facebook, Twitter and Pinterest for all of the latest updates.