Zesty, fresh & nutritious vegan Pad Thai. It's a little bit of sweet, a little bit of sour, and slightly nutty without the nuts.
Nut allergies suck! There's no other way to say it. Although we have multiple life-threatening allergies in our home, this nut allergy is my least favorite for Xander to have. I can avoid having nuts in my home, I can avoid baking with it, but it is so incredibly difficult to avoid coming into contact with it elsewhere. Think of all the PB & J sandwiches out there! Or crackers, or cookies, or smoothies, not to mention the oil people fry their stuff in. It's endless, especially when you include the variety of foods from other cultures such as Indian, African and Asian.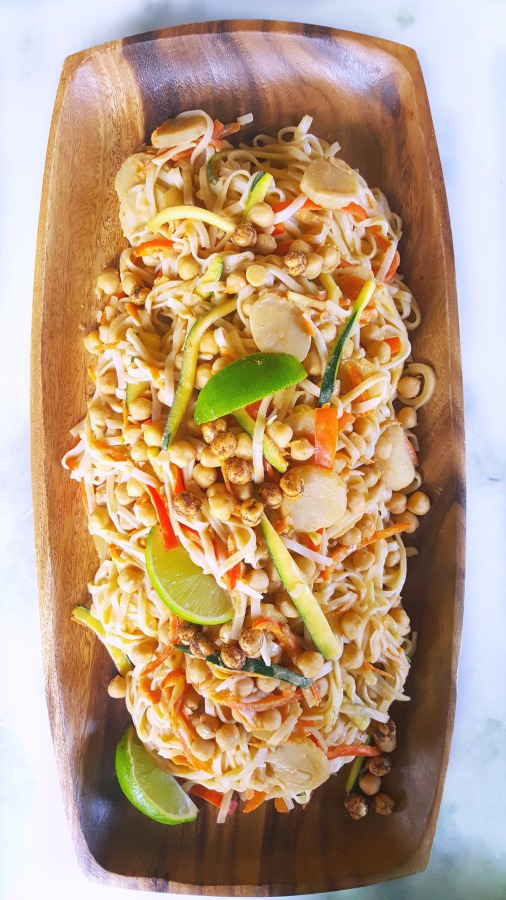 Although I love the experience of trying these different global cuisines, but many are prepared in ways that are uncommon to us and if you throw in language barriers, then it can be even trickier. Asian dishes (Korean, Japanese, Chinese & Thai) vary in ingredients but contain many of the top eight allergens, including peanuts. Recently, I found out that fried egg rolls or spring rolls can be sealed with peanut butter! I never would have thought that. But of all the Asian cuisines, Thai food is heavy in peanut rich dishes. Nuts are incorporated for adding flavoring, thickening the sauce or garnishing, such as in Pad Thai.
But don't give up hope! This Pad Thai recipe is to show you that you can easily recreate the dishes you loved without using nuts or any of the other top allergens.
My version of Pad Thai still contains the most important elements, rice noodles, veggies and protein. That is our base, just like every other version of this Thai favorite. Where we change it up is in the sauce.
The flavor and consistency still resembles that of your typical Pad Thai sauce, however, we are making it all from scratch and keeping it allergy-friendly. Keep in mind,  most of these ingredients you should have! I wanted to be sure you didn't have to postpone making this because you were out of Tamarind Paste or Satay Sauce! We don't need it, we'll just make it ourselves!

I just love how all the flavors and textures come together in this dish. Since noodles and cooked veggies and all graviate towards the soft side, a little bit of crunch was added by incorporating water chestnuts. When I was a kid, I would pull those from my dinner plate and set them aside to eat LAST!
My other bit of crunch comes in the garnish. Typically, most Pad Thai dishes are covered in chopped peanuts, but by throwing some dried chickpeas on top, it not only adds some texture but can also add another layer of flavor (think spicy or lime). No peanuts needed!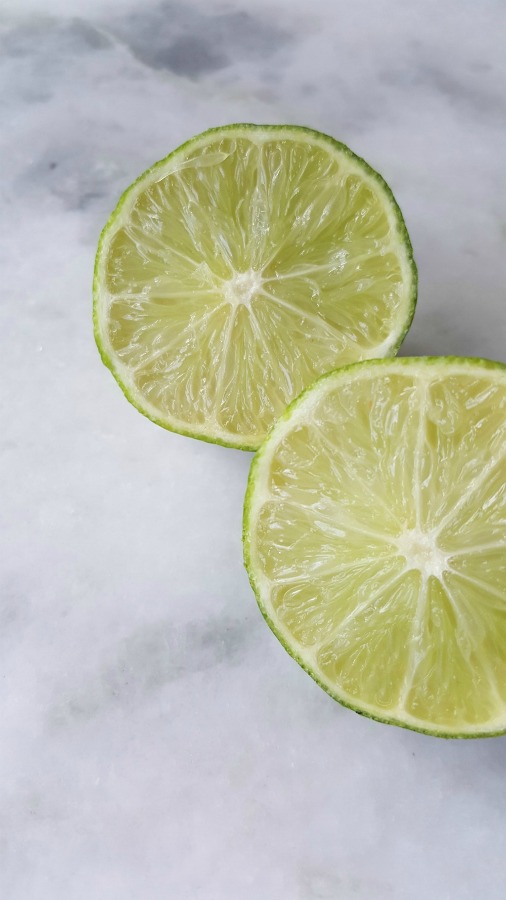 Adding a splash of lime on top,  balances this dish out perfectly! Just don't forget to include a wedge if you are packing this up for someone's lunch.
This is the perfect dish for dinner! It's also a wonderful dish to create when you do Meal Prepping. Protein, carbs, veggies, healthy fat….you have it all in a reheatable container! Having a few of these ready ahead of time really helped me when I was in a time crunch and contemplating running to get something not as healthy.
Let's Get Cookin'
This recipe is Free From: Gluten, dairy, eggs, nuts, fish & shellfish, wheat & soy. 
Pad Thai (peanut free)
Yield: 6 people
Prep Time: 10 minutes
Cook Time: 10 minutes
Total Time: 20 minutes
Zesty, fresh & nutritious vegan Pad Thai. It's a little bit of sweet, a little bit of sour, and slightly nutty without the nuts.
Ingredients
Pad Thai
1 package rice noodles
1/2 large zucchini (cut in strips)
1 medium red pepper (cut in strips)
2 tablespoon sweet chili sauce
1 can chickpeas (drained and rinsed)
1/4 cup carrots (shredded)
Sauce
1/2 cup coconut water
5 tablespoon satay sauce (see below for homemade Nut-free version)
1/2 cup water chestnuts (canned with liquid)
2 tablespoon rice vinegar
2 tablespoon light brown sugar
juice from 1/2 lime (save other half and slice for garnish)
Garnish
1 handful scallions (chopped)
crushed chili pepper flakes (for more spice)
dried chickpeas (I used spicy for extra texture and flavor)
lime wedges
Nut-free Satay Sauce
1 cup coconut milk (culinary version)
1/2 cup SunButter (creamy)
2 tsp light brown sugar
1 TB. Gluten-free soy sauce
crushed chili pepper flakes (if desired.)
Instructions
Pad Thai Noodles
Prep all vegetables: slicing, cutting, shredding, etc.
Prepare sauce, set aside.
Boil Rice noodles, set aside.
In a big wok/saucepan sauté zucchini,red pepper, chickpeas with sweet chilli sauce.
Combine noodles and sauce to sautéed veggies, mix thoroughly and heat through.
Add shredded carrot then mix through a little.
Garnish with all the goodies above if desired. Scallions, chili pepper flakes, crunchy chickpeas & lime wedges.
Sauce
In a small saucepan, add all sauce ingredients; coconut water, satay sauce, rice vinegar, brown sugar, lime juice, water chestnuts and its liquid. Heat to just before boiling then simmer. Add a little more water to reach desired consistency.
Notes
Make ahead of time for meal prep.  Place prepared noodles and veggies in 5-6 containers, keeping toppings separate.  Reheat, add garnish and enjoy.
Recommended Products
As an Amazon Associate and member of other affiliate programs, I earn from qualifying purchases. Please see my FULL DISCLOSURE POLICY for more details.
Nutrition Information:
Yield: 6
Serving Size: 1
Amount Per Serving:
Calories: 467
Total Fat: 24g
Saturated Fat: 9g
Trans Fat: 0g
Unsaturated Fat: 14g
Cholesterol: 0mg
Sodium: 596mg
Carbohydrates: 54g
Fiber: 9g
Sugar: 24g
Protein: 13g
Nutritional information is only an estimate based off of using an online calculator. Numbers will change depending on brands used.
Have you ever had Thai food? If so, what's your favorite dish to order OR recreate at home?
What tips or tricks do you use when making a dish fit your dietary restrictions? 
Don't forget to share your answers below,,, It's much more fun when everyone participates 🙂