This creamy eggless salad sandwich is made in minutes, using tofu instead, keeping it egg-free & allergy friendly. Protein packed, easy to make and quite egg-cellent.
A little over 9 years ago, I found the hope I needed, that I could still cook wonderful foods and delicious desserts without the use of dairy or eggs. There weren't very many "allergy-friendly" books or information available back then, but what I did find, was some amazing Vegan books that changed my way of thinking and also changed how my family eats now. Although we changed our diet out of necessity for the most part, it was still difficult in some ways because there were foods I had grown up with and loved that were now, literally, "off the table".
Vegan Eggless Salad
Egg salad was actually one of those foods for me. I remember my mom peeling the hard-boiled eggs, chopping them in her hand (KIDS, don't try this at home!), then dumping them into a bowl and mixing with mayo, celery & spices. I use to LOVE those sandwiches, especially on soft, white bread. That was some good stuff back then. But when your child is allergic to eggs and you watch 1 too many PETA videos on the egg industry, well, alternatives MUST be made.
Thankfully, TOFU makes a great alternative for Egg Salad! It is NOT a soy-free option, so keep that in mind if you have a soy allergy. It IS however, free from the other Top 7 allergens.
This is everything I used to make my Eggless Salad Sandwich.
Extra firm tofu
Veganaise or Just Mayo (vegan mayo)
small onion, diced
celery, diced
tamari
olive oil
turmeric &
sea salt
Looks pretty close to egg salad, doesn't it? What's crazy is that is actually tastes like egg salad too! Especially once you add the turmeric in there.
All you need to do now, is decide how you want to plate it up!
Maybe you are throwing a little party or get-together,,,,if you are, then cute little tea eggless salad sandwiches would be perfect. You can even dress them up by adding some extra veggies like thinly sliced radishes, smashed avocado or sweet red pepper strips.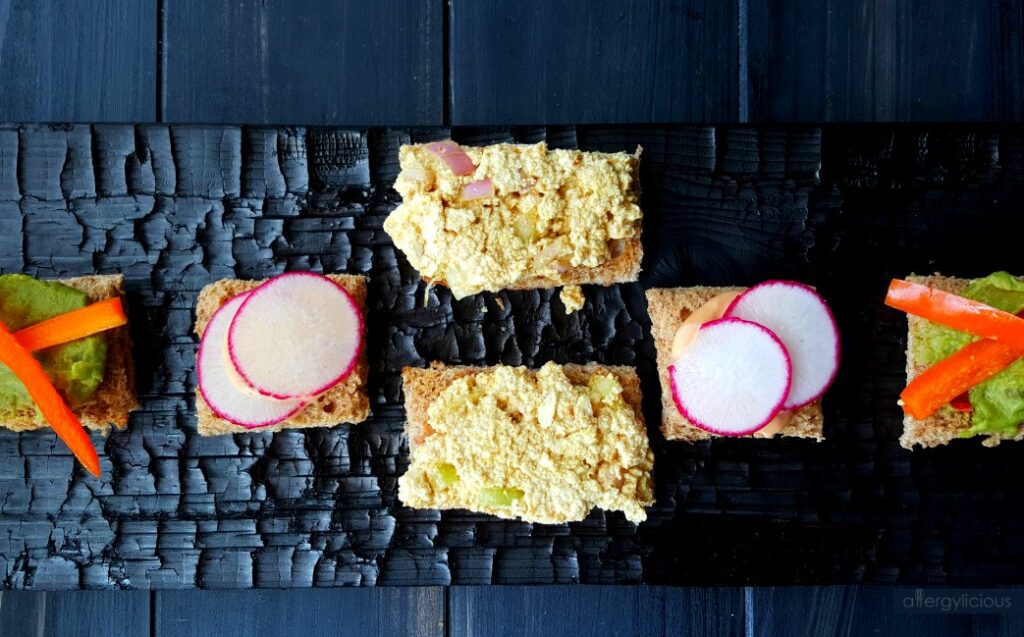 My daughter loves just scooping out the salad and eating it on her favorite crackers. Such an easy lunchbox idea, and healthy too! Be sure to include some fresh fruit and water to round out the meal.
If you're looking for sometime a little heartier, then you'll want to pile up your bread with your eggless salad on top and make a sandwich out of it! Of course you can still be creative and add your extra toppings if you'd like. Lettuce, sliced veggies, spicy Sriracha mayo or crushed red peppers are a few of my favorites!
Eggless Salad Sandwich
Yield: 4
Prep Time: 15 minutes
Total Time: 15 minutes
This creamy "egg" salad is made in minutes, using tofu instead, keeping it egg-free & allergy friendly. Protein packed, easy to make and quite egg-cellent 🙂
Ingredients
1 (12oz) package of extra firm tofu
1 small onion, diced
1 celery stalk, diced
1 TB. tamari (GF)
1 tsp. turmeric
pinch of  sea salt
chili pepper flakes or paprika (optional)
1 tsp. vegan mayonnaise (Vegenaise or Just Mayo)
Sprouted or Gluten free Bread, crackers, tortilla wraps.
Instructions
Drain liquid from tofu then add tofu cake to a medium-sized bowl. Mash with a potato masher (or fork) until chunky.
Add diced onions, celery, tamari, turmeric & sea salt. Mix well.
Stir in your vegan mayo. Refrigerate until ready to use or start to plate using below options.
Serve open-faced on top of toasted bread with a sprinkle of chili pepper flakes.
Make tea sandwiches and slice off the crusts then cut into 4 small triangles.
Serve along side crackers of choice.
Spread in tortilla, with greens & sprouts.
Notes
Add a little extra tamari if desired for taste.
If not GF, you can use soy sauce instead of tamari.
Craving more? Sign up for the Allergylicious newsletter for a fresh serving of content delivered every week to your inbox! Grab a copy of my eBook and stay in touch on Facebook, Twitter and Pinterest for all of the latest updates.
See you soon!